As with other office / business equipment, the fax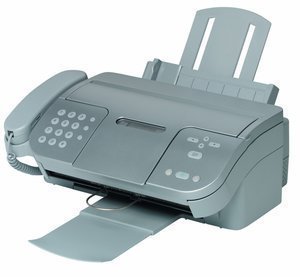 machine's size can sway someone to buy a unit or not. However there are other features you should look for, like the following.
Fax Machine Dimensions: HP 2140
This fax machine measures 9.1 x 14 x 4.6 inches and weighs 5.5 lbs. The unit also comes with an auto redial, a hundred speed dials and a 50 sheet paper tray. There are also 20 one-touch dials as well as management reporting. The reduction and enlargement is from 50 to 150%.
The maximum scanning resolution is 200×200 dpi. There is also a 15 sheet automatic document feeder. Also included are fax delayed sending, fax/phone/TAM interface and auto fax reduction. The HP 2140 also has fax polling, remote retrieval, answer mode, volume control, telephone handset and many more.
Fax Machine Dimensions: HP 640
The HP 640 measures 14.33 x 9.96 x 5.28 inches and weighs up to 6.6 lbs. The maximum resolution is 400 x 200 dpi. The fax speed is good for up to six seconds per page. The top copy speed is 4 ppm. There is also a 50 sheet tray and it can hold up to 50 incoming pages.
It's also possible to program up to 100 dials. The controls and buttons are all one touch and the commands are set up in menus. The unit can feed ten pages simultaneously. The system setup allows you to access the tools with 1 touch controls. The HP 640 is suitable for those who need a home fax machine.
Fax Machine Dimensions: Panasonic KX-FG2451
The KX-FG2451 dimensions are 9.7 x 13 x 5.1 inches. It weighs 15 lbs. The unit comes with a 4 GHz GigaRange cordless telephone as well as an answering machine. There is also a copier built in that allows for enlarging, reducing or collating. The caller ID has a three line LCD.
The KX-FG2451 also comes with a light indicating an incoming message. The model is compact so you don't need a lot of space for it. The unit has also been designed for beginners so the components are easy to assemble.
Fax Machine Dimensions: Brother FAX-575 Personal Fax
The Brother FAX-575's physical dimensions are 13.4 x 11.9 x 10.5 inches. It can copy black and white at a maximum of 400 x 400 dpi resolution. The 9,600 bps fax modem relays every 15 seconds for every page.
The fax machine has 512 KB of memory, good for 25 pages. The capacity is for 50 sheets. The user can switch between fax and telephone. This feature allows a user to get a fax message and voice calls simultaneously.
There is also a ten page Auto Document Feeder and 104 Station Auto Dialing. The package comes with a 30-page starter print cartridge, telephone handset and a power cord.
Whether you need a simple fax for home use or for business, the fax machine dimensions and specs should be evaluated before any purchase is made. Checking out reviews will also help.