Engine Cooling Fans Diameter
The engine cooling fan diameter can be of any size,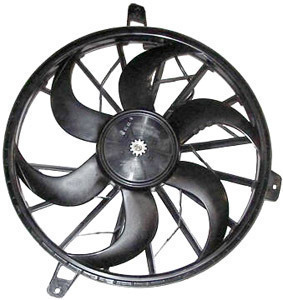 but many of the units sold are about 15". However, there are also units that have 12" diameter fans. Larger ones measure 16" to 18" in diameter.
How to Install an Engine Powered Cooling Fan
Required Tools

Ratchet and socket set
Combination wrench set
Step 1

Join the clutch assembly and fan by securing the nut tightly. You can use the wrench or ratchet.
Step 2

Set the fan in the radiator shroud. Place the fan-clutch and shroud into the engine compartment. Ensure that it is facing the radiator.
Step 3

Replace the main nut to fasten the fan onto the water pump. You can use the tools in the wrench or ratchet set to do this.
Step 4

Fasten the shroud onto the radiator. If needed, hook up the hose of the radiator and reservoir. Join the cables to the battery.
Tips

No matter what the engine cooling fan diameter is, you will need the car manual as a guide during installation. If you lost it, you may find a copy online or at auto parts shop.
The manual will also inform you if special tools are required to put the cooling fan in place. When fastening the fan on the clutch, follow the torque specs indicated in the manual.
Replacing Electric Engine Cooling Fans
Required Tools

Screwdriver
Ratchet
Set of ¼-inch drive sockets
Note: you may also need the car manual here
Step 1

Unplug all the connectors that link the fan onto the wiring harness. These connectors can be found close to the middle of the fans. Take off the 4 bolts attaching the fans to the radiator.
These bolts can be seen over the fan. In other models, the fan bolts are at the bottom and top. Wherever the case may be, the bolts will be easy to see since the fans are not concealed.
Step 2

Take off any obstruction that may be in the way. These may consist of radiator hoses or wiring. Remove the fan from the car. Get the new fans and slide them into place. Get the bolts and secure them. Reconnect the electrical connectors. Turn on the engine and it should start.
Note that some vehicles can be very particular about the engine cooling fan diameter. You can avoid difficulties by reading the manual first. The people at an auto parts shop may also provide you with the correct info regarding this matter.