A dragline excavator is a piece of heavy equipment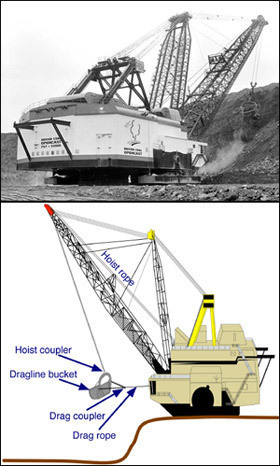 utilized in construction and surface mining work. They are also used heavily in civil engineering. The larger variants are used for strip-mining while the smaller ones for port and road projects.
Design
The bucket system has a large bucket that hangs from the boom. The bucket is moved via chains or ropes. The hoist rope is run by electric or diesel motors.
Dragline Excavator Sizes
Draglines are among the biggest and heaviest machines built on the planet. Many of them weigh around 2,000 tons, but there are many that weigh over 13,000 tons. One of the biggest ever made is the coal mining dragline known as Big Muskie. Built by the Central Ohio Coal Company in the US, it weighed 13,000 metric tons and as tall as a 22 storey building.
The machine was in use from 1969 to 1991. During its operation, 13,800 volts of electricity was used. In 1999, it was scrapped. During the 1960s, Ransomes & Rapier produced several 1,800 ton excavators, which made them some of the biggest draglines at the time.
The large dragline excavator sizes are matched by its cost. A large scale dragline system utilized in open pit mining costs about $100 million. The bucket volume varies from 30 to 60 cubic meters.
Some larger buckets have a volume of 168 cubic meters. The boom length will also vary, but they are often between 45 to 100 meters. A single cycle will allow it to move 460 tons of material.
Other Facts about Dragline Excavators
Unlike other heavy equipment, draglines are not diesel powered. These machines use a direct hookup to voltage grids (6.6 to 22 kV). The standard dragline fitted with a 55 cubic meter bucket can utilize 6 megawatts when running.
These machines are moved using pontoons or feet. The reason is that caterpillar tracks will create too much ground pressure. Due to their immense size, speed is limited to a few feet every minute. If the machine has to be transported over long distances, a dragline carrier will be deployed.
The carrier however, can be used only if the distance is no more than 100 km. Any farther than that will require the disassembly of the machine.
While the dragline excavator sizes have continued to increase, the design principles have remained virtually the same for the last 100 years. However, some researchers are now looking at the possibility of using computers to handle the operation.