Dimensions of a String Trimmer
The different string trimmer sizes have an effect on the cutting width.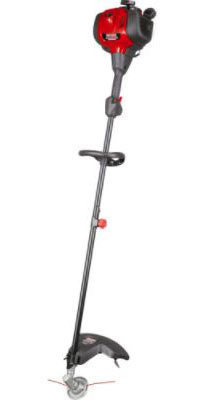 Many high end siring trimmers have a cutting width of 30 cm. Other trimmers have a wider cutting width. The line diameter also varies, although 1.65 mm can be seen in many string trimmers sold online.
Facts about the String Trimmer
The string trimmer is a tool used for landscaping and gardening. It has many uses, but primarily it is for removing shrubs, weeds and cutting grass. The tool is known by several names. They include grass trimmer, weed whip, weed eater, weed whacker or strimmer.
Because they have many uses, the tool can be found in most garden supply shops. Their multitasking capabilities have made them a fine alternative to the lawn mower. Provided the garden isn't too big, the string trimmer will prove sufficient.
Design and Application
While the string trimmer sizes are diverse, the basic design remains the same. The string is positioned on the spinning head. This is partly concealed with a shield.
When the strimmer is switched on, the string will turn at top speed, becoming very hard. The built in shield is meant to protect you from the string. As the string spins, it becomes stiff enough to slice through various kinds of materials.
Additional string emerges from the spool. This allows you to determine the string advance. Other models include clips. These snap onto the strings. This feature lets you change the string if it becomes necessary.
Ease of Use
One of the reasons why string trimmers are popular is they are easy to handle. Most close quarter jobs are better handled with a strimmer than a mower. The string trimmer is capable of cutting high grass, something most mowers cannot cut.
They can also be used in narrow spaces. Unlike some mowers, they can be used on rough terrain without any problems. The strimmer can also be used as an edger. They can produce clean edges as well.
String trimmers rely on different power sources. Some models are powered by internal combustion engines. Others are run by electricity. Electric powered string trimmers may be cordless. In this case, they can be charged with batteries. These are not as powerful as those run by combustion engines. But they are less noisy.
The string trimmer size is only one aspect that you have to consider. The means with which it is powered must be accounted for also. These two factors can determine how well they work.