Dimensions of a Rackmount Router
Rackmount router dimensions are diverse owing to the fact that different specifications are used by manufacturers. The figures below are some of the ones you will come across.
NetVanta 3305 Chassis Access Router
The NetVanta 3305 measures 17.2 in x 7.7 in x 1.3 in (WxDxH). It weighs 6.6 lbs. This router is made for simplifying and reducing Net access cost. The router is also made for Virtual Private Networking (VPN), point-to-point connectivity and corporate frame relay. It is made for apps that need bandwidth up to T3s.
The NetVanta 3305 is kept in one platform that has 10/100Base-T Ethernet LAN ports and two interface slots. The NetVanta 3305 can store different Network Interface Modules (NIMs). These include DHCP, NAT and VoIP. While there are numerous features, they can all be handled by one command line interface.
The form factor is modular – 1U (external). It has a 1 x Motorola MPC866 120 MHz with 64 MB RAM. The routing protocols are GRE, static IP routing, PIM-SM, IGMPv2, and many more. The network transfer protocols are DHCP, PPPoA, PPPoE and IPSec.
Other Features of the NetVanta 3305
These include firewall protection, full duplex capability ADTRAN OS and support for NAT. Other elements in the router are integrated CSU/DSU, URL filtering, DiffServ support and DoS attack prevention. There is also NAPT support and trunking. Some of the compliant standards are IEEE 802, IEEE 802.1Q, and IEEE 802.3u.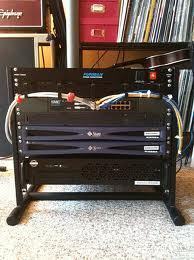 ADTRAN 4200873L1 NetVanta 3205
The rackmount router dimensions for this one are 17.2 in x 7.8 in x 1.3 in (WxDxH). Its weight is 7.1 lbs. The processor is Motorola MPC860 80 MHz.
The NetVanta 3205 access router is intended to cut the costs of Web access. It can also be utilized with Virtual Private Networking (VPN) and corporate frame relay. The router may be used with apps that require as much as T3s.
The device is kept in a platform with a single 10/100Base-T Ethernet LAN port. There is a single interface slot. It can support different network modules. These include E1/FE1 with G.703, and Serial, Dual T1, E1/FE1, T1/FT1 with DSX-1 and T1/FT1. The routing protocols are RIP-1 and RIP-2. The Network / Transport Protocol used by the router is TCP/IP.
The rackmount router dimensions are important, but more so are the technical specs of the routers. Because the efficiency of your Net access depends on it, you need to make sure the right router is selected.