Dimensions of a Power Shovel
A power shovel is a piece of heavy equipment used for moving debris and dirt.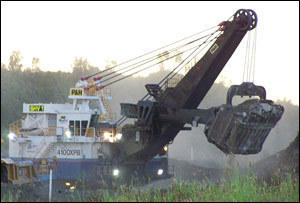 These machines are also capable of hauling large rocks.
Power Shovel Dimensions
The following specs are for the Gopher power shovel.
The under tow specs are as follows: the height is 78 inches and it is 78 inches wide. This power shovel weighs 900 lbs. It has a digging depth of 6-1/2 feet. The vertical reach is 96 inches and the horizontal reach is 13 feet.
The swing is 140°. There are 4 control valve (sections), 2" bore, 10 micron filtration and 2000 psi system pressure. The power shovel has 8 horsepower and 2 gpm hydraulic pump.
The Gopher power shovel also has steel bushings at the pivots. The teeth and bucket cutting edges are T1 steel. The pressure lines have JIC O-ring fittings. The engine used is Honda GX240, but others may be used as well. Despite the relatively small power shovel dimensions, the breakout force is over a ton.
Design and Application
Aside from moving dirt, rocks and debris, the power shovel may also be used in mining. Several companies use power shovels for extracting minerals. These machines are configured in different ways, but the basic setup has a cabin where the operator sits. From there they are able to manage the arms that handle the machine.
By employing the pedals and levers, a curved bucket or digging bucket may be pushed in the ground. This is subsequently raised up to take out more dirt and debris. The power shovel's bucket is flipped so dirt does not spill out. It is flipped back so dirt is dumped.
The digging bucket's front is pointed and sharp so earth can be broken and scooped up. The upper half can be turned so dirt can be dumped into another location. This setup allows the machine to dump dirt without having to move the power shovel around.
These machines have thick treads at the bottom so it can move backward and forward. The machine is powered by electric motors. Depending on the setup, other components may be installed. There are also smaller power shovels available for use at home.
The power shovel dimensions made for home are smaller of course. It looks nothing like the traditional power shovel, but it is used mostly for hauling snow. These shovels made for home have a handle so it can be gripped properly.