Dimensions of a Concrete Batch Plant
A concrete batch plant is an equipment used to make concrete.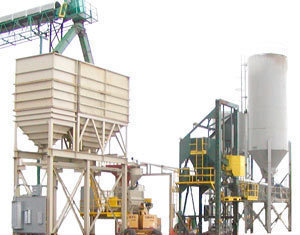 It is the apparatus used to combine the ingredients (water, gravel, sand, cement etc) to form the material. These are available in many kinds with the ready mix and the central mix varieties the most popular.
Fast-Way Concrete Batch Plant Dimensions
The Fast-Way batch plant hopper specifications are as follows: it has an aggregate and sand capacity of 6 cubic yards. With the extension kit it is 11 cu. yards. The charging height is 7' – 3" and 9' – 1" with the extension kit. The charging width is 8' – 6" and 10' – 6" with the extensions. The discharge is a slide gate (manually operated).
Conveyor Specifications
The belt is 24" and the Incline at 45 degrees. The discharge height is 12' – 0" from the chute. The speed is electric drive 250 fpm and the lump size is 3" maximum. The water system is 2" badger meter and the drive is 3 hp 240/480 vac 3 phase. The trailer chassis has electric brakes and clearance lights.
Travel Dimensions
Along with the concrete batch plant dimensions, the travel specifications must also be assessed. With the Fast-Way concrete plant, the length is 26' – 6" and the height 8' -7". The width is 8' -6". The road clearance is 10" and the weight at hitch is 560 lbs.
Accessories and Components
The concrete plant can be fitted with various accessories. They include dust collectors, batch plant controls, cement silos, chillers and heaters. Other components that may be fitted are cement bins, aggregate bins, conveyor radial stackers, aggregate batchers and cement batchers.
Types of Mixers Available
The center point of the plant is the mixer. There are three mixer types: the twin shaft, pan and tilt mixer. The twin shaft mixer is used for forming a uniform mix of concrete. The tilt mixer is used to produce a steady mixture.
Majority of modern batch plants come with both central and ready mixers. These days the batch plants use computers to ensure consistent mixture. Computers have also made it easier to put together the components and accessories. Modern plants are also safer and easier to operate than older versions.
Aside from the concrete batch plant dimensions, the moisture probes must also be looked into. This is very important because concrete is very dependent on precise water measurements. This will allow the plant to make the necessary adjustments.