A trencher is a type of heavy equipment used for breaking rocks and digging through dirt.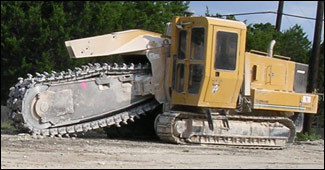 Their function is similar to excavators with one difference. The soil is taken out in one continuous movement.
Trencher Dimensions
The specifications are for the Dingo trencher only. If you look at other trenchers, you will see the specs are quite different.The Dingo trencher has a digging depth of 900 mm and cut widths of 100, 150, 200, 250 and 300 mm.
The teeth can be Diggatac or Cup. The flow range is 40 – 47 l/min while the side shift travel is 485 mm. The min side clearance is 210 mm and the frame width is 1010 mm. The total dig depth is 1016 mm. Other features include 300 mm diameter single removable auger and 42 mm chain.
Applications
These machines are used in other ways. For example, they can make trenches for pipes and landscaping. They are used by electricians, plumbers, and contractors. Depending on the model, it may be used for digging soil, shale, clay, sand and other materials.
Types
Although trencher dimensions are diverse, they basically come in two types, the ladder trenchers and wheel trenchers. As they are made for heavy duty work, these are designed to dig at high speeds. The wheel trencher has a wheel with several buckets placed on top of the crawler tracks.
The wheel spins and as it comes to the ground. The bucket will be used for excavating the earth. The buckets move. The bucket is tipped after the highest point is attained. The dirt ends up in a chute.
The ladder trenchers are distinguished because they are capable of digging deep. This is ideal for large scale digging and excavation. However they are more expensive. These work just like wheel trenchers, but the buckets are connected to a chain called the ladder. The ladder goes down and gathers the dirt in the buckets. These are thrown in the conveyor belt.
There are also some trenchers that can be connected to tractors. Whether the trencher is standalone or attached, the machine is controlled by an operator in the cabin. It is the operator who will control the speed and depth of the dig.
Bear in mind that trencher dimensions have a direct effect on its performance. The larger ones are for construction and other large scale building projects. There are also smaller trenchers used for making irrigation lines at home.