Today's technology allows for greater variety when it co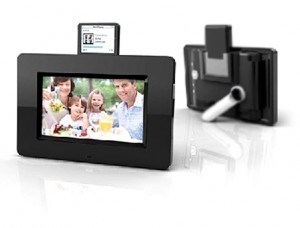 mes to the features of digital photo frames. The following specs are some of the most commonly used in the world today.
Digital Photo Frame Dimensions: Sony DPF-D70
The Sony DPF-D70 is a 7 inch digital photo frame and the resolution is 800 x 480. The LCD screen has an aspect ratio of 15:9 and comes with 256 MB of memory. There is an option for resizing the pictures to get the most out of the memory. There are several built in display modes, including slide show modes.
The Sony DPF-D70 is fitted with a USB B-type connection. The device can display 100 MB / 48 megapixel images. The card slot can support numerous types of memory cards including SD, memory stick and xD-Picture Card. The photo frame rotates the images to ensure correct orientation.
Digital Photo Frame Dimensions: Coby DP702
The Coby DP702 is a 7 inch digital photo frame. It is compatible with JPEG picture images and can also play music and video (MP3, WMA, MPEG-1 to MPEG-4). The Coby DP702 comes with a slideshow mode for displaying the pictures. There is also a calendar and a clock built in.
The Coby DP702 is equipped with a USB port to allow usage with flash memory drives. It also has a remote control and a speaker built in. It can be mounted on a wall and comes with a removable stand. The brightness and contrast settings can also be adjusted. It works with several memory cards like CF, xD, MS and MMC.
Digital Photo Frame Dimensions: Kodak EasyShare P725
The Kodak EasyShare has a 7 inch digital frame (4:3). It can store up to 4,000 images and is fitted with 512 MB of memory. Pictures are also resized automatically. It is plug and play and the controls are all one-click. To operate, the memory card just has to be inserted (it's compatible with USB flash drives).
When the card is inserted, the slide show commences. The images can be displayed randomly or by the date. There are three transitions styles to choose from. It is Energy Star powered. The Kodak EasyShare comes with a 6 ft (1.8 m) cord.
Digital Photo Frame Dimensions: Other Photo Frames
The Paradigital has an 8" screen size with 800 x 600 resolution. The aspect ratio is 4:3 and has a remote control. The internal memory is 128 MB. It can play videos and has a clock, alarm and calendar. The eStarling has a screen size of 8″ with 800 x 600 resolution. The aspect ratio is 16:9 and the finish is piano black.
Supported memory cards are MMC, CF, SD and MS. It can email pictures to the frame and has an auto turn off feature. The Philips model has a 6.5″ screen size with 720 x 480 resolution. The aspect ratio is 4:3.
The digital photo frame dimensions are just one aspect of the product that has to be considered. As you can see, other features can and are being incorporated in these devices.