Commonly made out of plastic or metal, a trash bin is often referred to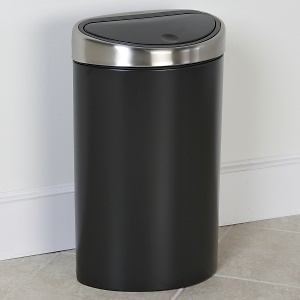 as a rubbish bin, dustbin or waste container. Other terms used to refer to this temporary waste storage include wastebasket, dumpster or simply trash can. In addition, it can also be called a rubbish barrel, garbage can or litterbin. Aside from these facts, it is also good to understand the different trash bin dimensions.
The Dimensions of Trash Bins
Trash bins are available in different shape and sizes. Actually, it depends on the amount of garbage and waste that needs to be disposed. A good trash bin must have wheels, which make the contents easier to transfer from one place to another. For instance, the Roughneck Trash Can from Rubbermaid is a quality product that measures 33.59 inches by 20.44 inches by 23.71 inches. It offers a double protection against pets and rodents. More importantly, it has a capacity of 33 gallons.
Comfort House has released a number of highly quality trash bins made out of metal for outdoor use. These include the 34-gallon can, which has a diameter of 18 inches, a height of 32 inches and a weight of 32 pounds. The next one is the 22-gallon can, a product that measures 30 inches high and weighs 22 pounds. It has a diameter measuring 15 inches. The 10-gallon can is a smaller version, the diameter of which is only 11.5 inches. It stands 23 inches high and weighs 15 pounds. It is available in black, brown, red and green.
For indoor use, you can easily find the Hex Dome Lid Waste Container very useful and economical. This trash bin has a 45-gallon capacity. A standard 45-gallon trash bag can perfectly fit inside this neat-looking container. It weighs about 25 pounds, with a width of 25 inches, a diameter of 22 inches and a height of 41.5 inches. Another nice product suitable for indoor use is the 415DT Monarch Series from Witt Industries. This specific product comes with an open-top receptacle and a 15-gallon capacity. With a 15-inch diameter, this product stands 34 inches high and weighs about 23 pounds.
Additional Facts and Other Interesting Details
Curbside trash bins are classified into three main types, namely the wheelie bins, the dumpsters and the trash cans. The first one is a light and mobile version, which is commonly made out of plastic. The second one features big receptacles. The last one features receptacles that are made from plastic, steel or tin.
The presence of bins in public areas is very important because it encourages people to stop littering. This eventually leads to a social environment that is both pleasant and healthy.