Biggest Diamond Ever Found
Weighing 621.35 g (3,106.75 carats), The Cullinan diamond is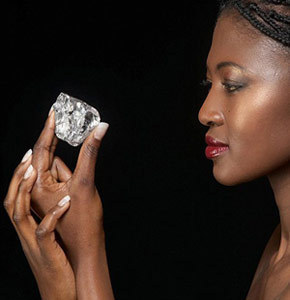 considered as the biggest diamond ever found, or at the very least, the biggest rough gem-quality diamond ever discovered. It was named for Sir Thomas Cullinan, the owner of the Premier Diamond Mining Company in a small South African town that has since also been named after Cullinan.
The actual discoverer of the Cullinan diamond was Frederick Wells, superintendent of the Premier Mine. He found the diamond on January 26, 1905 as he was inspecting the mine, noticing what appeared to be a glass chunk protruding from a wall. The chunk was extracted and taken to noted chemist Sir William Crookes to be analyzed. The tests proved that what was thought to be a large piece of glass was in fact the largest rough diamond found to date.
The Cullinan diamond was acquired by the government of the Transvaal Colony in northern South Africa, which in 1907 would present the gemstone to King Edward VII of England as both a birthday present and a token of good will following the Anglo-Boer War of 1899-1902. Presented in turn to the king's wife, Queen Alexandra, the diamond was then sent to the Asscher Diamond Company in Amsterdam to be cut.
The diamond-cutting firm's co-founder, Joseph Asscher himself, was to cut the diamond in front of an audience in February 1908. The story goes that when Asscher first tried to cleave the stone, the blade he was using broke while the diamond remained in one piece. He tried again the following week, employed with much stronger tools and with only the notary public bearing witness with him in the cutting room. When the diamond was finally cut, Asscher was supposedly overcome with so much excitement that it had caused him to faint.
The Cullinan diamond was initially cut into 2 main pieces and eventually divided into 9 major portions, as well as several smaller fragments or clippings. The largest piece is Cullinan I, also known as the Great Star of Africa, which weighs 106.1 g (530.4 carats) and was ordered by King Edward to be placed into the State Sceptre of England. Cullinan II, the second-largest piece at 63.5 g (317.4 carats), was placed in the Imperial State Crown.
King Edward would then buy the 11-carat Cullinan VI from Asscher (who was allowed to sell the remaining pieces as payment for his services) again to give to his queen Alexandra. The 6 remaining portions and the additional clippings were bought by the then newly-formed Union of South Africa. After the king died and was succeeded by his son King George V, South Africa gave the diamonds to the new ruler's queen, Mary. Cullinan III has a mass of 92 carats; Cullinan IV weighs 62 carats; V, VII and VIII are around 18 carats, while IX is merely 4 carats. Eventually, these stones, as well as Cullinan VI, were handed down to Mary's granddaughter, the current Queen Elizabeth.