Betsey Johnson Dress Sizes
Betsey Johnson is a popular clothing brand. It carries a number of apparels from shoes to dresses and whatnots. The main concern for shoppers is usually the size, especially now that online shopping has become a very enticing alternative. For your guidance, here is a chart of Betsey Johnson dress sizes. This chart is quite useful for online shoppers everywhere.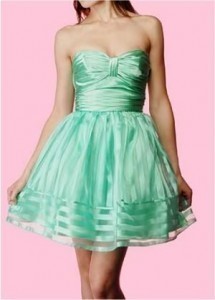 Size – Bust – Waist – High Hip (4" below) – Low Hip – (*" below)
0 – 32.5 – 25 – 31.5 – 35.5
2 – 33.5 – 26 – 32.5 – 36.5
4 – 34.5 – 27 – 33.5 – 37.5
6 – 35.5 – 28 – 34.5 – 38.5
8 – 36.5 – 29 – 35.5 – 39.5
10 – 37.5 – 30 – 36.5 – 40.5
12 – 39 – 31.5 – 38 – 42
Shopping for a Betsey Johnson Dress
Betsey Johnson is a brand that is known worldwide. The quality of its apparel, the reasonable price it commands, and the beauty of its designs all contribute to the kind of popularity it currently enjoys.
When shopping for a Betsey Johnson dress, or for whatever clothes for that matter, take a few hints from the following tips. That is, to ensure that you will be able to make yourself look chic and hip with your buy.
Tip #1: Take great consideration on the size. Size is an all-important factor that you must look through when it comes to clothes. Being able to find a size that will fit right is an achievement on its own. It is also a surefire way towards dressing up impressively.
Tip #2: Know your body. There are a lot of dresses available in the market. Unfortunately, not all of them can be flattering for your figure, unless you own an hourglass body that supermodels of the ramp possess. You have to understand and accept this point because that is the only way you will be able to find out what styles, types of fabric, and cuts will look good on you.
Tip #3: You can carefully examine yourself in the mirror and along with a tape measure, take key measurements of your body. This is helpful when choosing clothes according to size, especially if you do not have an opportunity to actually try the dress on. You may compare your measurements against the sizing chart of the clothing brand you are looking to purchase from to determine the size that will fit you right.
Tip #4: Your goals in dressing up should be to look fashionably chic and feel ultra comfortable. Nothing will boost your self esteem more than a dress that looks good on you and feels right, too.
Tip #5: Always go for the best price. Especially if you are shopping online, you will find lots of options to find the most reasonable price. Compare prices for the same dress and go for the retailer that will give you as much discount to lower down what's on the price tag.