A blog gives you an online venue to rant and rave about your life, buy and sell stuff, and give your opinions about the various issues rocking the world today – all for free.
There was a time when putting your own website on the internet meant asking a graphic artist to create the lay-out for you, a programmer to upload the site and a webhost to hold the site for you to ensure that it stays online, all the time.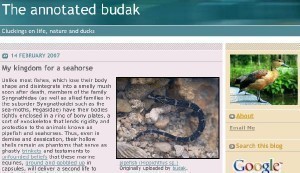 Nowadays, you can totally have your own website minus all the fees and the hassles of designing and programming; thanks to free blog providers. Free blog providers offer numerous templates that you can use as a theme for your blog. They also allow you to customize your settings to make it more personal.
Banner Sizes for Blogs
Blogs also allow you to upload banners; whether as a header, footer or side banners. The good thing about blog templates is that the banner sizes for blogs are already determined for you so you don't have to worry about figuring out what size is excellent for a header or a side banner.
With the pre-determined banner size, you can manipulate the font and image size more easily because you can readily see whether any one of these is already outside the banner lay-out size. This enables you to change font and image size without trouble.
Banner Types and Sizes
Now, if you are creating your own banner minus the help of blog templates, check the sizes below for your reference:
Header or Leaderboard – 720 pixels by 90 pixels
Rectangle: Small – 180 by 150 pixels; 300 by 100 pixels
Rectangle: Medium – 300 by 250 pixels
Rectangle: Large – 336 by 280 pixels
Rectangle: Vertical – 240 by 400 pixels; 120 by 240 pixels
Rectangle: Full Banner – 468 by 60 pixels
Half-Banner – 234 by 60 pixels
Square 1 – 250 by 250 pixels
Square 2 – 300 by 300 pixels
Button – 120 by 90 pixels
Button Small – 120 by 60 pixels
Micro – 88 by 31 pixels
Skyscraper: Vertical – 120 by 600 pixels
Wide Skyscraper – 160 by 600 pixels
There is also a photo-sized banner and this one measures 728 by 546 pixels. If you want your Leaderboard Banner extended, make one that is about 728 by 200 pixels. Pop-Under blog banners meanwhile are about 72
0 by 300 pixels.
Apart from templates provided by free blog sites, there are likewise websites that provide banner templates – also for free.
Once you have completed your banner design, you can upload the banner on your website; just follow the instructions provided by the banner template site.