Baalbek, Lebanon
Baalbek is a historic town standing on a 1,170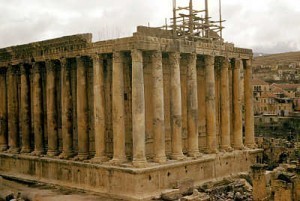 meter (3,800 foot) hill in the Bekaa Valley, in Lebanon. It is famous for its Roman temple ruins which have been declared a UNESCO World Heritage Site.
Baalbek's temples are among the most magnificent in the ancient world, and today among the most preserved.
Baalbek Temple Sizes
There is no single temple in Baalbek. Rather it is a complex of temples dedicated to various gods. The Great Court built during the reign of Trajan was 135 x 113 meters in size. It housed various buildings and was nestled among 128 columns. These columns stood 20 meters high and were made from rose granite imported from Egypt. Only 6 columns have survived.
The temple complex was protected by four retaining walls weighing hundreds of tons. Only the western retaining wall has survived, with two sets of monoliths. The first set weigh 300 tons each and the second set known as the trilithon weigh 750 tons each. Other stones in the complex weigh even heavier, believed to be about 900-1,200 tons.
Construction of the Baalbek temple of Jupiter started during the reign of Augustus. Its 104 columns were also made from Egyptian granite. In the temple were 50 more columns standing 19 meters tall.
A smaller temple built around 200 BC happens to be the most intact of all the Baalbek structures. It measures 69 x 36 meters and housed in 42 columns 19 meters tall. Some say it was dedicated to the god of wine, Bacchus. Others believe it was for Mercury/Hermes.
Origin of Baalbek Temple Complex
The ruins of Baalbek date back to ancient Rome. Back then the area was known as Heliopolis in the empire. Heliopolis means "city of the sun." It was dedicated to the Roman deities Jupiter, Venus and Mercury whose Greek names were Zeus, Aphrodite and Hermes. However the portrayal of these gods, and the design of Baalbek temple itself, were influenced by local custom and belief. For instance, Jupiter was called Baal by the natives, Venus was Astarte.
Heliopolis got its name after the Greeks conquered the region under Alexander the Great. Later in Roman times the temple became a site of pilgrimage as well as an oracle. The emperor Trajan's death is said to have been foretold by the Baalbek oracle.
Today the Baalbek temple complex is regarded as a World Heritage Site by UNESCO, being a great example of Roman architecture at its best.