The asphalt plant is a machine used for generating hot-mixed asphalt (HMA).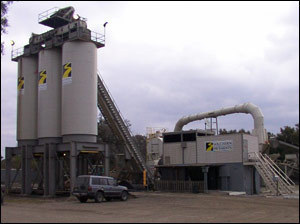 The plant is usually installed at a construction site if there is a need for HMA.
Asphalt Plant Dimensions
Asphalt plant sizes will depend on the type. Three variants are used: the drum asphalt plants, batch asphalt plants and continuous mix plants. The drum asphalt plants and batch plants are the most common.
A look at various online stores will show the difference in their specifications. The Dillman 500 Duo-Drum asphalt plant has a 36" transfer conveyor, while the Barber Greene DM-60 has a 7' x 30' portable drum mixer.
The dimensions of batch plants are determined by the plant pugmill capacity. The lowest capacity is about 3,000 lbs (1,360 kg). The average today is 6,000 lbs (2,720 kg). If the asphalt plant dimensions are sufficient, the capacity will reach 12,000 lbs.
Drum Asphalt Plants
Here the crushed aggregate are kept in feed bins. From the hoppers they enter a conveyor and into a rotary dryer. These dryers can be oil fired or gas.
The hot aggregate is placed in vibrating screens where it can be sorted into various sizes and types. These are set into hot bins depending on their grades. The grades are mixed by the operator according to the required formula.
Batch Asphalt Plants
These plans create HMAs in batches. The benefit of these plants is that they can make HMA on exact specifications. In contrast, the drum asphalt plant generates high levels. Instead of a drum, the asphalt is prepared in the pugmill mixer.
Continuous Mix Asphalt Plants
These are similar to drum plants, but they are rarely used nowadays. They constitute less than half a percent of all asphalt plants in the US.
Asphalt Plants Components and Parts
The collecting conveyor collects specific amounts of the materials and puts them in the drum mixer. The scalping screen can be placed between the conveyor and the cold feed bins. This is done to rescreen the aggregate.
The drum feed conveyor is utilized if the scalping screen is employed. The asphalt plant burner comes with a fan and blows into the drum. Its purpose is to heat and dry the mixture.
Because the specifications and asphalt plant dimensions differ, the project manager must evaluate the features of the plant. Since the drum and batch asphalt plants operate differently, you must determine which is better suited for your needs.