A small flowering tree that is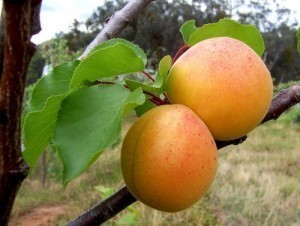 classified under the genus Prunus, the apricot was first grown during the 3000 BC in India. The top producers of the tree are Turkey, Iran, Italy, Pakistan, Greece, France and Algeria. In addition to these countries, the tree is also popular in Spain and Japan. The tree grows well in regions with cold climate. It can tolerate winter temperatures of -30 degrees Celsius or below. However, it cannot tolerate spring frosts. To grow the apricot successfully, it is important to learn the average sizes of this tree.
The Apricot Sizes
The average height of the apricot tree is eight meters to 12 meters. The diameter of the trunk can reach 40 centimeters. The base of the leaves is rounded. The length of the leaves is around five centimeters to nine centimeters. The flowers of the apricot tree have five petals. The diameter of the flowers is two centimeters to four centimeters. The fruits have the same size with peaches. The diameter of apricot fruits is 1.5 centimeters to 2.5 centimeters. The usual colors of the fruits are orange and yellow. Each fruit has a single seed in the center.
Additional Information and Other Important Details
Raw apricots are rich in vitamin C. On the other hand, dried apricots have high content of vitamin A or beta carotene. Aside from vitamin C and vitamin A, the fruit is also rich in iron. In addition, the fruit contains dietary fiber that is important to improve digestion.
Apricots have special compounds that are essential in treating earache. Fresh juice from the fruit is also recommended to those who are suffering from high fever because the it can remove toxic substances that can cause high body temperature. Many people cultivate the tree because it is used in making apricot oil. The oil are useful for treating skin illnesses like eczema, itching and scabies.
The fruit has high content of iron and copper, which are important to hemoglobin formation. Aside from these, apricots have antioxidants that are essential to avoid the risk of cancer and cardiovascular diseases. Patients who have problems with their eyesight should include the fruit in their daily intake because it has vitamin A, which improves blood supply to the eyes.
Potassium is also present in apricots. Eating the fruit daily can help prevent the development of hypertension. Above all, the fruit has soluble fibers. These fibers are essential to the treatment of chronic as well as acute constipation.