Also called wall washer, an anchor plate is a washer or large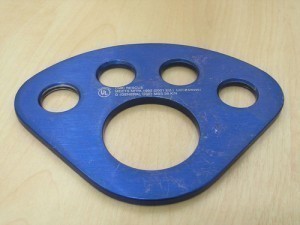 plate attached to a bolt or tie rod. It serves as a structural reinforcement, which is commonly found on the exterior walls of various kinds of structures like masonry buildings. Because it can be seen easily, it usually comes with a decorative style. For a better understanding of this important material, it is good to know the different anchor plate dimensions.
The Dimensions of Anchor Plates
Anchor plates come in various shapes and sizes. A highly durable model is the NAP-050, the plate of which measures 6 inches by 6 inches by 0.5 inch. It is suitable for use in steel installation. Aside from this, there is also the NAP-060 designed for concrete installation. It is slightly bigger at 7.5 inches by 6 inches by 0.5 inch.
For those who are looking for something smaller, an anchor plate may have a size of 0.25 inch by 2 inches by 4.25 inches. One of these products is the D-Ring Hole, which people can weld or bolt to a structure. In case you are looking for something appropriate for wood or metal installation, you can easily find one measuring at least 2.19 inches long, 1.25 inches wide and 0.09 inch thick.
For the different needs of contractors, they can use studded anchor plates. They come in different sizes, the most common of which include the 0.38 inch by 8 inches by 12 inches. For something smaller, you can go for the 0.38 inch by 8 inches by 8 inches plate. Aside from this, another version only measures 0.38 inch by 6 inches by 6 inches.
Additional Facts and Other Interesting Details
Because of its interesting design, one of the most popular is the star anchor, which is a special anchor plate with a beautiful star design. Aside from this, you can also find other interesting designs like the T-head, the S-iron as well as the triangular washer. In addition, many people love to use the earthquake washer, mainly because of its efficiency and functionality.
The materials commonly used to manufacture anchor plates include steel, wrought iron as well as cast iron. These highly durable materials can be used on masonry-based buildings. These materials are also appropriate for bricks.
Anchor plates are easily found in places with legacies of the beautiful brick construction and design of the 18th century and the 19th century. These include different cities in the United States such as Charleston in South Carolina, Saint Louis in Missouri and Philadelphia in Pennsylvania. They can also be found in places that are prone to earthquakes like San Francisco in California.