Worlds Most Expensive Marriage
Weddings can be pretty expensive especially if the ceremony and the celebration are lavish ones. But everything would pale in comparison when you check out some of the world's most expensive weddings.
Most of these expensive weddings that come with a hefty price tag were between famous Hollywood personalities, business magnates and children of the world's richest families.
What is the World's Most Expensive Marriage?
By far, the most expensive wedding to date took place in 2004 between Vanisha Mittal, daughter of steel magnate Lakshmi Mittal; and her fiancé Amit Bhatia. It was estimated that more than seventy million US dollars were spent on the wedding of the century.
The invitations alone already cost a fortune. It was a full twenty-page silver invitation booklet. Several thousands of bottles of wine were opened for the occasion, costing a whopping one and one-half million US dollars!
Add to that the giveaways for ladies who joined in the traditional henna ritual, which were gift bags containing exotic jewelries. That's not even half of the lot. The father of the bride also paid for 5-star accommodations of over one thousand guests in one of Paris' most expensive 5-star hotels.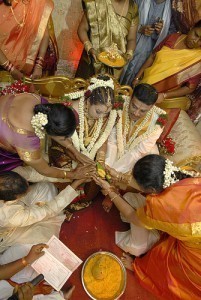 Held at an exclusive chateau in France, guests were treated to one hundred different dishes whipped up by one of India's top chefs.
Most Expensive Weddings Recorded in History
Next on the list of the world's most expensive weddings is the wedding of Sheikh Mohammed bin Rashid Al Maktoum and Princess Salama. It was estimated that more than forty-four million US dollars were spent on the lavish wedding ceremony and celebration.
A special stadium was constructed particularly for the wedding to give the bride and groom a venue that will accommodate their thousands of guests. African and Arab performers were hired especially for the occasion.
One singer who regaled the bride and groom with their special wedding song received a red Mercedes Benz from the groom in appreciation for the performer's rendition.
Third on the list is the wedding between Andrei Melnichenko, a Russian billionaire, and his fiancée Aleksandra Kokotovich; who was one crowned as Miss Yugoslavia.
It was estimated that thirty million US dollars were spent on the wedding. It was held at Cote D'Azur in France back in 2005. Famed Hollywood singers Christina Aguilera and Whitney Houston graced the affair. Each received a whopping $3.6 million for their performances.
Finally, there is the wedding between Vikram Chatwal and his model girlfriend Priya Sachdev back in 2006. An estimated twenty million dollars were spent on the wedding where guests of honor included former US President Bill Clinton, supermodel Naomi Campbell, and P. Diddy.