There is no official record yet of the world's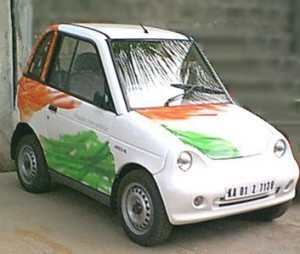 biggest car but there certainly are a lot of possible candidates. We have some of the world's longest cars and we also have some of the world's tallest cars but it all depends on what metrics you use to judge which one is the biggest. Other metrics besides height and weight that can be used include a car's wheelbase and weight.
World's Biggest Car Using Various Metrics
Since there is no record set to tell which is the world's biggest car using overall dimensions then we can simply just compare cars by various metrics. Until someone comes up with the metrics that everyone can agree on then we just have to settle with comparing cars using various criteria.
So, as a start, we can compare the cars in the world by length. One Limousine, designed by Jay Ohrberg from Burbank, California, vies for this title. It's 30.5 meters long or something around 100 feet. Of course this really long car isn't sold to the public or is driven around for every day use. It's basically just used for exhibitions and films.
On the other hand the longest commercial car to date is the Ford F-350 it has a length of 21.8 feet. It is officially dubbed as the Ford Super Duty Crew Cab Long Bed, which is obviously manufactured by the Ford Motor Company. Production of the F-350 Super Duty began in 2009 and its predecessor is the Ford F-250. Among commercial vehicles, this car is classed as a full-size pickup.
The longest passenger car ever built was the 1975 Cadillac Fleetwood Seventy-Five. It has a total length of 21 feet or 6.43 metes. General Motors manufactured it within the period from 1947 to 1996. It was classed as a full-size luxury car.
If ever you wonder where the name of Cadillac Fleetwood came from, it was named after its original manufacturer. It was originally manufactured by the Fleetwood Metal Body Company in Pennsylvania. General Motors acquired the company in 1925.
The longest commercial vehicle is the Mercedes-Benz Sprinter, which has a total length of 24.1 feet or 7.35 meters. It was built by Daimler AG and is sold today under the Mercedes brand. It is also classed among commercial vehicles as a full-size van.
Here are the contenders for the title of world's biggest car judging by the height of the vehicle. According to Guinness World Records, the tallest car in the world is a Limousine built by Gary Duval from Australia. The car rises to a total height of 3.33 meters or about 10 feet and 11 inches. However, the tallest commercial vehicle is the Rolls Royce Phantom with a total height of 1.6 meters.
No Clear Winner Yet
Of course, there are other criteria that can be used to judge which is the world's biggest car. Until we can settle on a uniform set of criteria we can only judge cars using what metrics are currently available.