The title of world's biggest burger is coveted by many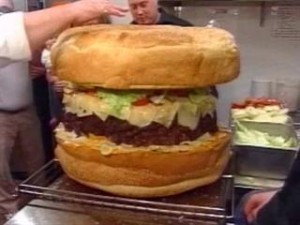 restaurants everywhere. The challenge is up and what may be the biggest today may yet become the second biggest the very next day. There are several contenders for this prestigious title with others itching to break the current record. It is interesting to find that once a record is set you should expect that others will be waiting next year to take the title away.
World's Biggest Burger
According to Guinness World Records, dated August 29, 2008; the worlds' biggest burger weighs 164.8 lbs or 74.75 kilograms. This is in fact the biggest commercially available burger in the world to date. You can buy at Mallie's Sports Grill and Bar for $399. If ever you want to try and eat the whole thing or maybe you're just curious to see it for yourself then drive on down to Southgate, Michigan and check it out for yourself.
It was restaurant owner Steve Mallie himself who introduced the world's biggest burger to the public. It will be quite a surprise to find anyone who can finish off this enormous meal. Steve Mallie even admitted that to bake a bun that is huge enough takes about eight hours. It took a lot of hard work to earn the coveted Guinness Record.
The restaurant owner heaved a huge sigh of relief when they received the said awarded. The burger itself required about 15 hours of baking time. All the baking was done before adding the cheese and other ingredients. They even believe that getting the record from Guinness may yet be the greatest achievement they have obtained so far.
Challengers to the World's Biggest Burger
Of course, there will be challengers to the title of world's biggest burger. The burger industry is indeed characterized by competition. One contender for the said title is that from Denny's Beer Barrel Pub based in Pennsylvania. They once introduced a 25-pound belly busting burger.
The restaurant even posts a challenge to all the diners. The challenge is to finish off their biggest burger in five hours in order to win a cash prize, a T-shirt, get the humongous burger for free, and have their name posted on the restaurant's wall of fame.
Denny's wasn't the only contender to the title of world's biggest burger. There were others who came along with their own gimmicks. Another previous contender is Clinton Station Diner that introduced their Mount Olympus Burger that weighs over 50 pounds. That burger even sells for $100 and is meant for a group of five to eat.