Worlds Biggest Apartments
The world's biggest apartment building is the John Hancock Center in Chicago. The building is 1,127-feet (344 m) high. It has 100 stories. The building is 1,506 feet (459 m) tall when measured at its antenna mast top. Aside from 700 condos, it is also home to many offices and restaurants.
General Characteristics
When measured up to the roof, its height is 1,127 ft (344 m). If measured up to the top floor, the height is 1,078 ft (329 m). The total floor area is 2,799,973 ft2 (260,126 m2). The building has 42 elevators. The edifice cost $100,000,000 to build. Construction was completed in 1970.
The world's biggest apartment building has a total of 896,980 sq ft of office space. There are 171,771 sq ft of retail and 34,307 sq ft of radio and TV broadcast facilities. There is 17,371 sq ft of observatory located on the 94th floor. The residential condos occupy 49 floors.
Features and Attractions
The 85th floor is home to the "The Signature Room on the 95th Floor" restaurant. Another attraction is the John Hancock Center Observatory. The observatory has 360 degree views of Chicago and four states. The view is good for up to 80 miles.
There is also an open-air SkyWalk with multimedia features. Starting January 2011, the building will feature the highest skate rink on the planet. It will also allow the use of normal skates at typical room temperatures.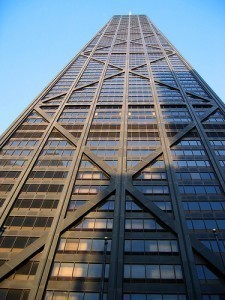 The 44th floor has the United States' highest swimming pool. Its elevators can reach speeds of 1800 ft/min (20.5 mph). This is when traversing 94 floors.
Businesses and Tenants
Some of the companies that have offices in the John Hancock Center are Qatar Airways, Jamba Juice, North Face, L'Appetito, and Hanig's Footwear. Best Buy, Aveda and Accent Chicago also have offices in the building.
Design
Its X-bracing exterior is one of its most famous features. This design shows that its "skin" is part of the tubular system. The tubular system is what keeps the structure steady even when strong winds are blowing.
The X-bracing also boosts a building's performance. Compared to the Willis Tower, the antenna masts on the John Hancock Center are of the same height.
The world's biggest apartment building is part of the World Federation of Great Towers. Its unique architecture has won it numerous awards. In 1999, it was given the Distinguished Architects Twenty-five Year Award by the American Institute of Architects.