What is the size of South Carolina?
Known as one of the U.S. states that became independent in the American Revolution,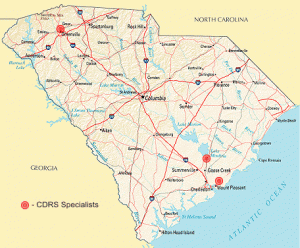 South Carolina is bordered by Atlantic Ocean at the east, Georgia at the west and south as well as North Carolina at the north. The capital of this state is Columbia and it has 46 counties, which include Greenville, Charleston, Richland and Lexington. Some of the largest cities in the place are the Rock Hill, the Goose Creek, the Spartanburg and the North Augusta. To know more about this wonderful place, it is important to look at the size of South Carolina in terms of population as well as territory.
The Size of South Carolina
What is the size of South Carolina? The total area covered by the state is 82,931.8 square kilometer. In terms of width, the place measures 320 kilometers while its length is 420 kilometers. The Sassafras Mountain is the highest peak in the area with the height of 3,560 feet. The lowest point is the Atlantic Ocean. The average elevation in the place is 350 feet.
When it comes to population, South Carolina has a density of 55.37 per square kilometer. The total population in the place was estimated to be 4,479,800 in 2008. With a median income of $39,326, the state ranked 39th in the states that have high median income.
Additional Facts and Other Interesting Details
The southeast region of the state is divided into three geographical regions, which are the Barrier Islands, the Santee River Delta and the Grand Strand. The northwest part is divided into several regions including the Blue Ridge Region, the Piedmont and the Sandhills.
South Carolina is also known for having large lakes including the Lake Marion, Lake Hartwell, Lake Storm Thurmond and Lake Keowee. The other lakes that people can find in the place are the Russell Lake, the Lake Greenwood and the Lake Wylie. When it comes to transportation, the state has major highways, which include the U.S. Route 378, the U.S. Route 29 and the U.S. Route 59. Additionally, the state features interstate highways such as the Interstate 26, the Interstate 85 and the Interstate 95.
Tourists from other states will not have problems going to the state since it has several airports. These include the Columbia Metropolitan Airport, the Charleston International Airport, the Florence Regional Airport and the Myrtle Beach International Airport. There are also four Amtrak routes in South Carolina such as the Silver Star, the Silver Meteor and the Crescent.