What is the Size of Africa?
The area size of Africa is 30,221,532 km2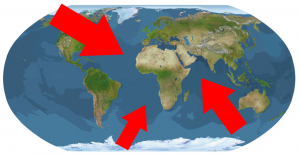 (11,668,698.7 sq mi). The population is 1,000,010,000 as per 2005 estimates. The population density is 30.51/km2 or 80/sq mi. It is the second largest continent both in terms of size and population. It takes up 20% of the planet's land area.
Natural Features
The elevation on average is 2,000 ft (600 m). The Sahara is the biggest desert in the world covering 9,000,000 km2 (3,500,000 sq mi). Its highest mountain is Mount Kilimanjaro at 19,340 ft (5,896 m), followed by Mount Kenya at 17,058 ft (5,199 m).
The third highest peak is Ruwenzori at 16,763 (5,109 m). The size of Africa's landmass and its diverse resources is matched by its various types of fauna.
African Regions
The continent is divided into the following territories.
Eastern Africa
Eastern Africa has a total area of 6,384,904 km2. It includes the countries of Burundi, Comoros, Djibouti, Eritrea, Ethiopia, Kenya, Madagascar, Malawi, Mauritius, Mayotte, Mozambique, Réunion, Rwanda, Seychelles, Somalia, Tanzania, Uganda, Zambia and Zimbabwe.
Middle Africa
The total area is 6,613,253 km2. This region includes Angola, Cameroon, the Central African Republic, Chad, Congo, the Democratic Republic of Congo, Equatorial Guinea, Gabon and Sao Tome and Principe.
Northern Africa
Its area size is 8,533,021 km2. The territories are Algeria, Egypt, Libya, Morocco, Sudan, Tunisia, and Western Sahara. The Canary Islands, Ceuta and Melilla are Spanish territories in North Africa. The Madeira Islands are Portuguese territory.
Southern Africa
The size of Africa's southern region is 2,693,418 km2. It includes the territories of Botswana, Lesotho, Namibia, South Africa and Swaziland.
Western Africa
The area size is 6,144,013 km2. The territories are Benin, Burkina Faso, Cape Verde, Côte d'Ivoire, Gambia, Ghana, Guinea, Guinea-Bissau, Liberia, Mali, Mauritania, Niger, Nigeria, Saint Helena, Ascension and Tristan da Cunha, Senegal, Sierra Leone and Togo.
African Countries by Population Size
The biggest in terms of population is Nigeria with 140,003,542 followed by Egypt with 80,335,036. Ethiopia is the third with its population of 75,067,000.
The Democratic Republic of Congo is fourth with 63,655,000; South Africa is fifth with 47,432,000 residents. Tanzania's population has been estimated at 37,849,133; Sudan's is 36,992,490 and Kenya, 34,707,817.
The size of Africa's population in Morocco has been put at 33,757,175. The tenth most heavily populated is Algeria with 33,333,216. Uganda is 11th with 27,616,000; Ghana is 12th with 23,000,000.
Mozambique is 13th with 20,366,795 and Madagascar is the 14th biggest in terms of population with 18,606,000. At 15th place is Cameroon with 17,795,000 inhabitants.
The Biggest African Countries by Area
Sudan has an area of 2,505,813 km2 followed by Algeria at 2,381,740 and the Democratic Republic of Congo at 2,344,858 km2. Libya has an area of 1,759,540 while Chad has an area of 1,284,000 km2.
Niger's total area has been measured at 1,267,000 km2 and Angola 1,246,700. Mali's land area is 1,240,192 km2; for South Africa it is 1,221,037. Ethiopia's land measures 1,104,300 km2.
The size of Africa's population and resources notwithstanding, it remains the poorest of the continents. The reasons range from civil wars, tribal conflicts to government corruption.