What is the size of New York?
Considered as the third most populous state in the U.S.,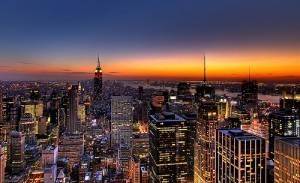 New York goes by the nickname 'the Empire State.' The largest city is New York City, while the capital is Albany. It is surrounded by Quebec on the north, Ontario on the west side, Vermont on the east and Pennsylvania on the south. By visiting this place, people can find beautiful state parks such as the Montauk Point State Park, Catskill Park and Adirondack Park. In addition to these highly interesting aspects, it is also good to learn the size of New York.
The Size of New York
What is the size of New York? In terms of land area covered, New York ranks 27th overall amongst the various states in the U.S. It measures 141,299 square kilometers or 54,555 square miles. It is 530 kilometers or 330 miles long and 455 kilometers or 285 miles wide. The highest point is Mount Marcy, which stands tall at 1,629 meters or 5,344 feet.
The largest cities in the state include Utica, Schenectady, Mount Vernon, New Rochelle and Albany. The other five big cities are Syracuse, Yonkers, Rochester, Buffalo and New York City. New York City is in itself comprised of five different counties, namely Richmond, Kings, Queens, Manhattan and the Bronx.
Additional Facts and Other Important Details
New York set a gross state product amounting to $1.1 trillion in 2007. This ranks third after the bigger states of Texas and California. Its agricultural outputs include apples, vegetables and cattle. In terms of industrial outputs, its economy relies heavily on tourism, chemical products and machinery. Likewise, it also receives major contributions from the electric equipment, scientific instruments as well as publishing industries.
Furthermore, the state exports an extensive selection of goods including minerals, commodities and foodstuffs. Additionally, it also exports automobile parts, cut diamonds and electronics. These products are sent to places such as Hong Kong, Israel, Switzerland, the United Kingdom and Canada. On the other hand, the state imports lumber, rough diamonds, electricity, natural gas, aluminum, gold and oil from other countries.
In the United States, New York City plays a major role in the country's economic success by serving as the center of communication, finance and banking. Moreover, it also plays home to the New York Stock Exchange. Aside from these things, the state is also serves as reliable producer of agricultural products like maple syrup, onions, potatoes, cabbage, cherries and apples. In 2004, the state produced approximately 200 million bottles of wine from its 212 wineries and 30,000 acres of vineyards.