What is the size of Michigan?
The area size of Michigan is 97,990 sq mi (253,793 sq km). It is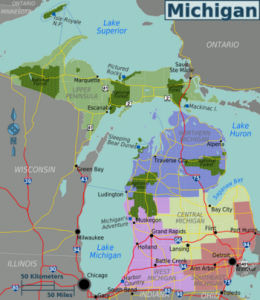 386 miles (621 km) wide and 456 miles (732 km) long. Its capital is Lansing.
Geographical Information
The water area percentage is 41.5%. The latitude is 41 degrees, 41' N to 48 degrees, 18' N and the longitude is 82 degrees, 7' W to 90 degrees, 25' W. Mount Arvon is the highest elevation point at 1,979 ft (603 m). The lowest point is Lake Erie at 571 ft (174 m). The mean is 902 ft or 275 m.
Michigan is divided into two peninsulas, the Upper and Lower Peninsula. The Upper Peninsula is noted for the Porcupine Mountains, which reaches a height of 2000 ft (610 m). The size of Michigan's Upper Peninsula is such that it is as big as Rhode Island, Massachusetts, Connecticut and Delaware combined.
The Lower Peninsula is 277 miles (446 km) long and stretches 195 miles (314 km) east to west.
There are 11,037 inland lakes in Michigan. The Great Lakes encompass 11,037 sq m (99,910 sq km). There are also 1,305 sq mi (3,380 sq km) of inland water. No point in the state is 6 miles (10 km) away from an inland lake.
Population
The 2008 census estimates Michigan's population to be 10,003,422. The density is 179 sq mi (67.55 sq km).
The earliest census known dates back to 1800. The size of Michigan's population back then was 3,757. By 1830 the figure reached 28,000 and jumped to 212,267 in 1840. From 397,654 in 1850 the state population rose to 1,184,059 in 1870. By 1900, the state's population was 2,420,982.
The 1930 census showed the population was at 4,842,325. By 1960 the population size was 7,823,194. The 1980 census estimated the population to be 9,262,078 and 9,938,444 in the year 2000.
The demographics of Michigan (as of the year 2000) show 83.05% were white, 14.92% black, 2.10% Asian and the remaining percentage divided among Native Americans and other races. The largest ancestries are German at 20%, African American at 14%, Irish at 10%, English 9% and Polish at 6%.
Size of Michigan Cities (by Population)
They are as follows. Detroit is number one with 916,952; Grand Rapids is next with 193,627, followed by Warren with 134,223 residents. Sterling Heights is at number four with 127,349, while Ann Arbor has a population of 115,092. Lansing has a population of 114,947, while the city of Flint has 114,662 inhabitants.
Clinton Township is the 8th most heavily populated with 96,253; Livonia is 9th with a population of 93,931 and Dearborn is 10th with 89,252. Other important cities in Michigan are East Lansing, Manistee, Midland and Pontiac.
Two of the richest communities are Grosse Pointe and Oakland County. The poorest is Benton Harbor. Another important city is Traverse; it is the biggest producer of cherries in the United States. Saginaw is the biggest of the Tri-Cities, the other two being Midland and Bay City.
The size of Michigan's total area has remained unchanged for a long time. Its population figure of course, is subject to change.