What is the size of Delaware?
A state situated within the Atlantic Coast of the U.S., Delaware is known by the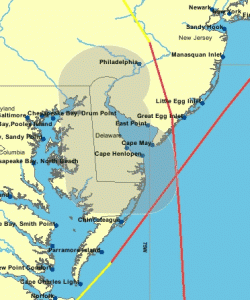 nicknames 'the Diamond State,' 'the Blue Hen State' and 'the First State.' Wilmington is the largest city in the state, while Dover serves as its capital. Its climate stands somewhere in between continental and humid subtropical. As of 2008, it has a population of more than 873,092. Besides these highly interesting details, it is also good to find out the size of Delaware.
The Size of Delaware
What is the size of Delaware? The total area covered by the state is 6,452 square kilometers or 2,490 square miles, which ranks amongst the smallest states in the U.S. It has a length of 154 kilometers or 96 miles, with a width measuring only 48 kilometers or 30 miles. The highest point in the area is located somewhere near Ebright Azimuth, which measures 136.5 meters or 447.85 feet high.
Additional Facts and Other Important Details
Delaware can be found within the eastern part of the Delmarva Peninsula, right between Chesapeake Bay and Delaware Bay. In 2003, it posted a gross state product equivalent to $49 billion. It has a pretty good agricultural output, which is comprised mainly of corn, dairy products and soybeans. In addition, it produces a steady supply of nursery stock and poultry. In terms of industrial outputs, its economy continuously thrives on processed foods, automobiles and chemical products. Furthermore, it receives major contributions from the plastic products, rubber as well as paper products industry.
Two of the largest employers in the farming industry are Mountaire Farms and Perdue Farms. In the automotive manufacturing industry, the leading employers are Chrysler and General Motors. The top healthcare services in the area are the Alfred I. DuPont Hospital for Children and the Christiana Care Health System. The place also features a number of notable chemical and pharmaceutical companies including Hercules Inc., AstraZeneca as well as Syngenta.
The state has three counties, namely Sussex, New Castle and Kent. Its major cities are Harrington, Dover and Delaware City. Aside from these, you can also find other cities such as New Castle, Milford and Lewes. The other cities found within this state are Wilmington, Seaford, Rehoboth Beach, and Newark. The richest places in the state based on per capita income are South Bethany with $53,624, Henlopen Acres with $82,091 and Greenville with $83,223. In terms of quality education, it features world-class universities and colleges such as the University of Delaware, Wilmington University and Delaware State University.