Wedding Jewelry Size Guide
Wedding jewelries should always be elegant, exquisite and classy;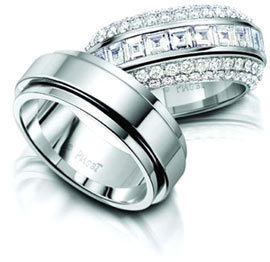 anything less than these can completely ruin your wedding dress as well as your bridesmaids' dresses.
When it comes to wedding jewelries, less is more. You don't want to look flamboyant and have loud jewelry on. Subtlety is key to wedding jewelries. This being said, getting the right wedding jewelry does not only mean picking out the right style or stones but getting the right size as well.
Wedding Jewelry Size Guide
On the internet, you can find various jewelries ideal for your wedding day. You can also find a wedding jewelry size guide to help you pick out the right size that will suit your wedding gown and your body type as well as the dresses of your bridesmaids and their body type.
To give you an idea of some of the usual sizes for wedding jewelries, from necklaces to earrings; check out the following.
A simple pearl necklace with a teardrop pearl pendant is usually the most popular choice for a wedding necklace. Average size that is suitable for a wedding is sixteen inches for the length of the entire necklace while the teardrop pendant is perfect at only 1 and ¼ inches long.
A matching pair of teardrop earrings should be no more than the size of your pendant for the whole length of the earrings. In this case, earrings that are 1 and ¼ inches long are ideal.
This jewelry set is recommended for low necklines.
On the other hand, if you are going to be wearing a strapless gown, you may want to consider a strand necklace. A choker necklace of about 12 to 15 inches should do the trick.
Match this with a strand earring of about 7 to 8 inches in length and you have the perfect wedding jewelry.
Choosing Your Wedding Jewelry
Bear in mind that your choice of wedding jewelry should not only be suitable for your gown but also for the time of your wedding. There are wedding jewelries that work better for a daytime wedding while others would look more elegant during an evening or late afternoon wedding.
Your choice of jewelry should also speak a little of who you are; your personality and your lifestyle.
On the other hand, you may also want to use your mom's or your grandma's wedding jewelry for sentimental reasons. You can have these altered to your size if they appear too big or too small for you.