If you find yourself always looking for that hammer or those nails, a toolbox is something worth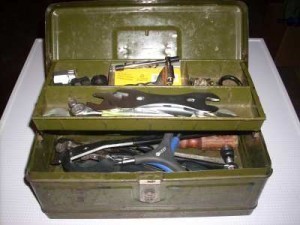 considering. They come in an assortment of sizes, as the examples will show.
Toolbox Size: Stanley Consumer Storage 024013R
The Stanley Consumer Storage 024013R measures 11 inches high, 24 inches long and 11 inches wide. There are a couple of top organizers, ideal for storing small components. The handle has soft rubber coating so it isn't difficult to handle.
The latches are nickel plated. The Stanley Consumer Storage 024013R has a tote tray bundled in, useful for storing small items. There is a built in padlock eye for fastening with a small lock. The toolbox is black and made of durable plastic. Its light weight is aimed at making it easy to carry around.
Toolbox Size: Stanley 028001L
The Stanley 028001L toolbox measures 28 x 12.6 x 11.6 inches. Designed to be extra large, it comes with a tote tray for storing large types of utilities. The material is water sealed to provide protection for all the equipment being kept in the toolbox.
The latches are made of metal and are rust proof (with padlock eye). The box is ergonomically designed to help with carrying large loads. The V grooves on the lid are applicable for lumber and various types of pipes.
The toolbox is large enough to hold in drills, chargers, batteries, hammers and more. There is also room for storing boxes of screws, drivers, nuts and bolts.
Toolbox Size: Stanley Consumer Storage 014725R
The 014725R consumer storage measures 16.2 x 13.5 x 2.1 inches. It
comes with three unique sized unique cup compartments (can be removed). The lid allows it to fasten all the compartments. The latches are heavy duty and it comes with a wide handle to ease carrying.
Because the bin can be removed, one can take it without the rest of the container. The snaps on the lid are solid so it does not accidentally open. When latched up, the units will interlock. This is most suitable for mechanics and design engineers.
Toolbox Size: Homak BK00115000
The 15" Homak BK00115000 has a black plastic finish. It features a double latch system and comes with a plastic tray insert. There are also reinforced rivets and the entire toolbox is made of steel and plastic.
Choosing a Toolbox
If you've never bought a toolbox before, there are two things to consider: the size and its sturdiness. The large the toolbox the more expensive it'll be. A small toolbox will be sufficient if you just need a place to put in screws and tools.
If you need a big one, look for those that are waterproof. Keep in mind that some of these can be expensive. However, the box will contain all your tools. A cheap toolbox could end up with water in it.
The toolbox size is something you need to assess carefully before buying. Getting the right toolbox will save you a lot of time and money in the long run.