The World's Biggest Restaurant
The Damascus Gate Restaurant, also called as the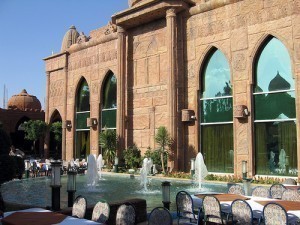 Bawabet Dimashq, is the current world's biggest restaurant. This restaurant is located within a suburb in Damascus, Syria that is just off the road in between the airport and the city. It is a family-owned business that opened its services to the public last 2002. On May 29, 2008, it was distinguished by the Guinness Book of World Records as the largest restaurant in the world.
Dimensions
The Damascus Gate Restaurant has a total dining area of 54,000 square meters. The total seating capacity of the world's biggest restaurant is around 6,014 people. The total kitchen area of the restaurant is 2,500 square meters. During the peak hours of their operation, a total of 1,800 employed staff does the actual work of catering to customers' needs. Within the premises of the restaurant are various fountains, waterfalls, and replicas of archaeological ruins found within Syria.
There are a total of six different culinary themed sections within the Damascus Gate Restaurant. These are Syrian, Middle Eastern, Iranian, Arab, Chinese, and Indian cuisine. The kitchen of the restaurant is compared to a production line. A chef must be efficient enough to prepare about 25 to 30 individual helpings of the restaurant's famous dishes – everything done under a minute. For example, a chef should make a bowl of hummus every two seconds. To help out the chefs, there are about 200 kitchen staff employed in the world's biggest restaurant.
Good Food for Cheap Prices
The Damascus Gate Restaurant doesn't just serve a delectable blend of various cuisines; the food is also budget friendly. An average meal will just cost around USD 15 – making it pretty affordable. Walking into the restaurant, you will be greeted by a sea of outdoor dining tables – talk about al fresco dining. They also have indoor dining halls, the largest one being the Zenobia Hall. Aside from the a la carte menu, it also features an all-you-can-eat buffet for the price of USD 13. Since the local patrons really care about the food they eat, the goal of world's biggest restaurant is to offer the best food at affordable prices.
Other Information
The owner of the Damascus Gate Restaurant is Shaker Samman and his son Muhannad Samman is the current general manager. The total construction cost of the restaurant is estimated at USD 32 million. The world's biggest restaurant is more than a simple dining place. It also stands as a symbol of the economic progress of the country after years of social isolation and economic turmoil. Each year, about seven million tourists visit Syria and the majority of them stop at the Damascus Gate Restaurant to enjoy an appetizing meal.