The biggest Harley Davidson is called the Boneshaker. It is 3 meters (9.9 ft) high and 5 meters (16.5 ft) long. The motorcycle weighs 6,000 lbs. The bike was constructed in Gates County, North Carolina, USA.
Origin of the Harley Davidson Company
The Harley Davidson Company was established in 1903 by Arthur Davidson and William Harley. The first motorcycle produced was actually developed in 1901. It had a 116cc engine set on a bicycle pedal frame.
The bike did well on flat terrain, but a bigger engine was needed for more complex terrains. The company would eventually develop the 405cc engine. This had a major effect on the development of motorcycles in the US.
In the years leading to World War I, the company made its name by selling engines. Although competition surfaced, the company maintained its lead thanks to technological advances.
By the end of World War I, Harley Davidson was producing more than 30,000 motorcycles yearly. The company entered into a contract agreement with the US military to provide bikes in WWI. By this time, Harley had become the biggest motorcycle company in the world.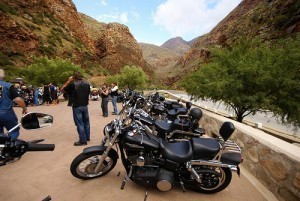 Even during the Great Depression, the company was able to flourish. It would become even more successful during World War II as it manufactured bikes for the military. A change of ownership in the early 1980s affected the company negatively. But during the 1990s it experienced a renaissance and increased sales.
The biggest Harley Davidson sports unique and oversized parts. However, the classic model has a two-cylinder V-twin engine. The twin pistons are set on a pin at a 45 degree angle. This setup allows a powerfully built engine to be placed in a compact space. The result is increased torque. That is why many Harleys can go beyond 5,000 RPM.
This configuration however, means the pistons fire at irregular intervals. This distinct sound has now become a trademark of Harley bikes.
There are currently five "families" in the Harley Davidson group: the Sportster, Touring, Softails, Dyna and VRSC (V-Twin Racing Street Custom). The VRSC is the newest in the group. It was developed in 2001. It is the first among the Harley bikes to use a 60-degree V engine.
Few of the Harley bikes today can compare in size with the biggest Harley Davidson. But even the standard Harleys are quite large compared with other motorcycles. Their design of course, makes them very conspicuous on the road.