The dimensions of tapes differ because they are used for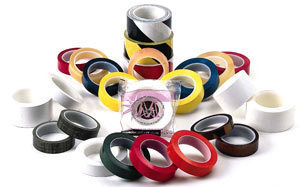 many purposes. A roll of tape can measure 38 mm x 50 mm, 50 mm x 50 mm, 20 m x 40 mm, 25 x 50 mm and so on. The thickness of the tape will also vary, with many masking tapes 0.16 mm thick.
Definition and Types
A tape is a narrow strip of woven fabric. The tape can be adhesive or non-adhesive. Types of adhesive tapes include surgical tape, slug tape, pressure sensitive tape, medical tape and masking tape.
Other adhesive tapes are hockey tape, gaffers tape, filament tape, electrical tape, duct tape, double-sided tape and box sealing tape. Scotch tape is a brand name, although it is often used a generic term for all kinds of transparent tape.
There are also many kinds of non adhesive tape. They include caution tape, flagging (tape), heat tape, tape measure and drywall. Drywall can be mesh, cloth or paper. Sometimes the tape comes with adhesive. The optical celluloid tape is utilized in movie projectors. The twill tape is a robust fabric. Dimensions of tapes also vary.
Masking Tapes
The masking tape is made of material that is easy to tear. It also has adhesive sensitive to pressure. Like other tapes, the masking tape is sold in various lengths and widths. The masking tape is utilized in many ways, but mostly for painting.
Artists usually place the tape in sections that must not be painted on. The main advantage is that the tape can be taken off without inflicting the damage. The tape comes in various strengths from 1 to 100. Those used in paintings are usually in the 50 range. The one used in households are of a lower strength.
Duct Tape
Duct tapes are usually 17⁄8 inches (48 mm) wide. The tape is composed of reinforced polyethylene and a soft shell. These are available in various colors but usually they are black or silver.
The tape was invented in 1942 for ammunition cases. It is still used to repair aircraft, firearms, jeeps and other military equipment. The duct tape is also utilized in motorsports to fix fiberglass. The duct tape is also used by NASA during the work for the spacecraft.
The dimensions of tapes and the type have to be considered thoroughly. Make sure that you know what the tape is for. The length is crucial of course, because you don't want to end up with too little.