Surgical Table Dimensions
As the name makes clear, the surgical table is used in hospitals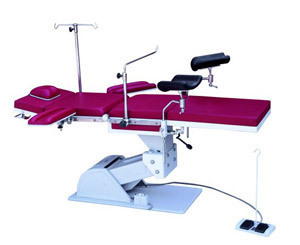 to perform surgery and other medical procedures. The table is designed for the patient to lie on it. It is also constructed so the surgeon and their assistants can work effectively.
Surgical Table Dimensions
Most surgical tables are long and narrow, but the exact specifications differ per manufacturer. For example, the MST-7200B microsurgical table can be lowered to a height of 16" if needed. Low and high articulation speeds provide accurate positioning. There is also an automated return to level function built in.
The weight capacity is 500 lbs. It also has a four-point leveling brake system. There is also a durable 1-Touch Pendant control. This allows for accurate table operation regardless of the table perimeter.
The specifications (including the maximum weight) and surgical table dimensions specified here are for this model only.
Vascular Surgeon Table Requirements
For vascular surgery, the table must not have any steel plates on it. The table clearance under the arm and bed must be sufficient for the x-ray machine. Positioning is also crucial for surgery. If the operation will be done on the arm, an arm board will be required.
The surgical table must be able to hook up these attachments. If the surgery will be performed on the leg, the individual has to be positioned a bit on the side. In some cases, the table may have to be tilted to the left or right.
Easy Access
The table must also provide easy access. The table must be movable so the surgeon can access any part of the body without difficulty. In addition, the table must have height adjustment features built in. During the surgery, it may be necessary to adjust the height of the table. In head or neck surgery, sliding the table up or down may be required.
Other Information
The table should also be designed so that access to tools is easy. Common hand instruments used are the scalpel, various hemostats, needle holders and forceps. The forceps are used to hold tissues while the needle holders are utilized to close out wounds. Other tools that may be required are electrosurgical tools, power saws and many more.
The surgical table dimensions used by surgeons will vary depending on the situation. If other surgeries will be performed, the table specifications will be different. For this reason, there are no real standard sizes for these tables.