The Super Bowl is an event most looked forward to in the United States. At the end of the games, the winning team is hailed as the champions and the Vince Lombardi trophy is awarded.
The Vince Lombardi Trophy is actually the Super Bowl trophy and is named as such after one of the greatest football coaches in history passed away due to cancer back in 1970.
The Super Bowl Trophy size is approximately 22 inches high or about 56 centimeters and is 7 pounds heavy, equivalent to 3.2 kilograms. The trophy has an inclined football, depicted in a kicking stance and is made from sterling silver.
This trophy is a labor of love for the game, so to speak, as it takes approximately 4 months to complete.
The Vince Lombardi Trophy
It was back in 1967, during the AFL-NFL World Championship games, when the trophy was first awarded to the winning team.
The trophy originally had the words World Professional Football Championship written on the trophy but since its change in name to the Vince Lombardi Trophy in 1970, the words Vince Lombardi Trophy has been inscribed since then.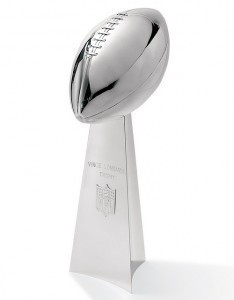 The trophy was renamed, as previously mentioned, in honor of Vince Lombardi for his achievements in football particularly his role as head coach for the Green Bay Packers who won the 1st two Super Bowl games.
Who Makes the Trophy?
The Super Bowl Trophy is made each year by world-renowned jeweler Tiffany & Co. and is estimated to be worth fifty thousand US dollars. Other than the words Vince Lombardi Trophy inscribed on the trophy, the NFL official shield is likewise included in the trophy design.
Once the winning team has been awarded the trophy, it is given back to Tiffany & Co. to have the team's official name inscribed on the trophy.
There are actually two trophies made for each Super Bowl game in order to have a back-up trophy in case something happens to the other trophy. To date, the Pittsburgh Steelers owns the most number of Super Bowl trophies, having won 6 championship games.
The San Francisco 49ers and the Dallas Cowboys come in second, having won 5 trophies each. In 3rd place are the Green Bay Packers, New England Patriots, New York Giants, Oakland Riders and Washington Redskins; with three trophies per team.
Previously, the trophy was awarded to the champions inside their locker room but beginning Super Bowl XXX, the trophy was handed to the team's owner right on the football field immediately after the championship game.