The smallest house in the world is the XS-House made by the Timbleweed Tiny House Company. The house is 7' wide and 11' long. Below are the other statistics of the tiniest house in the world.
XS-House Specifications
The porch measures 2′ x 1 ½' and the main room measures 41/2' x 51/2'. The trailer size is 7′ x 10′. The kitchen dimensions are 4′ x 4′ and the road height is 12′ 9″.
The bathroom is 3 ½' x 2'. The ceiling height is 6′ 2″. The dry weight is 4000 lbs. The house is designed for a single person. It can be towed easily due to its light weight.
The Living Room and Kitchen
The living room includes a desk. A couch is also built in. There is additional storage room under the couch. There are a couple of full sized closets between the living room and the front door.
The kitchen consists of a stainless counter and a sink. There are shelves around it. There is a water heater below the sink. The smallest house in the world has a hot plate and fridge.
Bedroom
To the left of the house is the bedroom. The room can accommodate a queen size bed. However, that is impractical since the house is designed for just one person only. The mattress can be foam or a similar material. There is a loft opening in case you want to roll the foam up. The loft is 3′-2″ high.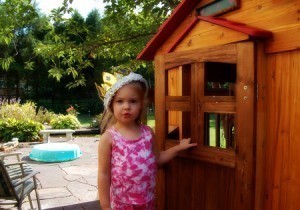 Bathroom
The bathroom includes the shower. It has a metal diamond plate finishing. This gives the room a contemporary look. The shower water is also heated. There is also a toilet (low flush RV). A composting toilet can be substituted.
Other Features
The house includes a stainless steel fireplace. This can keep the unit warm even in cold weather. The insulation is 16R. However, its small size makes this number sufficient. The heater size can be increased with the Dickinson P-12000.
If it is hot in the area, you can install a small ceiling air conditioner. The whole structure is set on the 7′ x 10′ utility trailer. The trailer is required since the house doesn't conform to the minimum standards needed for a house foundation.
The smallest house in the world can be constructed as a shed. While this is currently the tiniest house made by the company, it is possible a smaller one will be manufactured.