According to the Guinness Book of World Records, the smallest car in the world is the Wind Up, which measures a height of only 41 inches, a length of 51 inches, and a width of 26 inches. It was invented by a British inventor named Perry Watkins, who was also the eccentric genius behind the world's lowest car, the Flatmobile.
As tiny a car as it is, the Wind Up also resembles an overgrown wind-up toy car, although the wind-up key on its back is really just for show. The vehicle's body was, in fact, cobbled from that of a coin-operated kid's ride. Watkins had also repurposed a Shanghai Shenke quad bike's chassis, and made use of a Honda Monkey motorcycle's wheels and rear tires. The Wind Up can actually run at 37 mph (miles per hour), and Watkins even has a license to drive it out on the streets. And of course, the car also comes with seat belts for safety.
However, although the Wind Up may hold the record for smallest car ever, it is not manufactured for use by the general public. The smallest car to go into production is actually the Peel P50. Running on only 3 wheels, it measures a length of 54 inches (1,372 millimeters) and a width of 41 inches (1,041 millimeters). It weighs an unladen mass of 130 pounds (59 kilograms).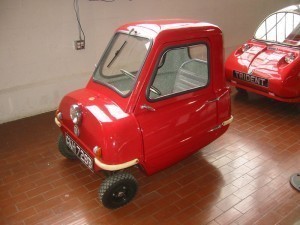 The Peel P50 was manufactured by the Peel Engineering Company in 1962 and 1965. Designed to be a city car to drive around urban areas, its seating capacity was billed as having only enough room for 1 adult and a shopping bag. The P5 had only a single door, which was situated on the vehicle's left side, and was also equipped with 1 windshield wiper and only 1 headlight. The car came in 3 standard colors: Dark Blue, Dragon Red and Daytona White.
The P50 utilized a 49 cc (3.0 cubic inch) Dampf-Kraft-Wagen (DKW) engine and had a maximum speed of around 61 k/h (kilometers per hour). It also had a 3-speed manual transmission which did not have a reverse gear. As a result, if the car were in a confined area, it could only be turned by lifting or pushing it with the use of the handle on its rear and pulling it around physically. Production of the Peel P50 was resumed in 2010, an electric-powered version of the car that has a maximum speed of 16 kilometers per hour. Manufactured in an undisclosed area in northern England, there had only been 50 cars produced, each selling for £12,499.