From hauling dirt to carrying loads, the dump truck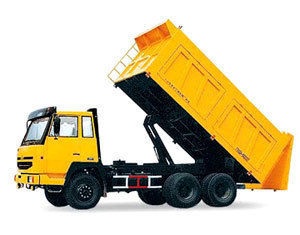 has become an indispensible part of construction and many businesses. If you are looking for one, it pays to know something about the truck specs.
HINO 716 Dump Truck Dimensions
The wheelbase measures 3430 mm and the length is 5780 mm. it is 2130 mm wide. The rear overhang is 1260 mm and the height is 2410 mm. The inside body width is 2000 mm and the inside body length is 3600 mm. The road clearance is 200 mm.
The front chassis mass is 1835 kg for the front and 1510 kg for the rear. The total mass is 3345 kg. The maximum output is 114kW (155PS) at 2700rpm and the torque maxes out at 404Nm at 1800rpm. It has a direction injection type combustion system.
The bore x stroke is 104 x 118mm. The piston displacement is 4.009 liters. The truck is fitted with a fan clutch and catalytic converter. The clutch is dry single plate, diaphragm tire and has an outside facing diameter measuring 325 mm.
The facing lining area is 483 x 2 cm2. The front disc has a diameter of 296 mm. The rear diameter is 287 mm. It is fitted with six tires.
Kent International Dump Truck Dimensions
The truck has cargo dimensions of 5300 x 2300 x 800 mm. The total mass is 16,000 kg. The wheelbase is 3,800 mm and has overall measurements of 7400 x 2500 x 3250 mm. the rear and front track measures 2006 and 1,860 mm respectively. The truck has a very wide frame, ensuring the balance of the truck.
Shiyan Rongtai Dump Truck Specs
The dump truck measures 8500 × 2500 × 3200 (mm) and has a mass of 29800 kg. The curb weight is 11800 kg and the rated loading weight is 12000 kg. The engine power is 275 KW and the displacement is 8900 ml.
The front and rear suspension is 1500 and 1300 mm respectively. The truck can move at a maximum speed of 90 km/h. The tire specs are 12.00-R20 and 12.00- 20. The truck has both an air conditioner and power steering.
Note: the specs given do not apply to the other trucks made by these manufacturers. Keep in mind that the models themselves may undergo changes. Before you buy, contact the manufacturer.
The dump truck dimensions are important, so make sure to examine it well. Even secondhand trucks are not cheap, so you need to assess your requirements.