Located at the town of Lushan County in the province of Henan in China, Lushan Dafo or the Spring Temple Buddha is considered as the biggest statue in the world. It stands at a height of 420 feet (128 meters); including a lotus throne which measures 66 feet (20 meters). Along with the 82-foot (25 meters) pedestal upon which the statue is placed on, the Buddha has a total monument height of 502 feet (153 meters).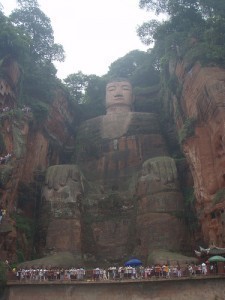 The Spring Temple Buddha is a representation of Vairocana, a celestial Buddha often interpreted as Gautamma Buddha's Sambhogakaya, or astral body. It takes its name from the Foquan Temple near Tiannui hot spring, which spews out water at a temperature of 60 degrees Celsius and is known for its healing properties. Built at the time of the Tang Dynasty, the temple houses the Bell of Good Luck, which is placed atop Dragon Head peak. Made out of bronze, the bell has a weight of 116 tons.
When the plan for building the Spring Temple Buddha was revealed, it was meant as China's condemnation of the Taliban's destruction of the Buddhas of Bamiyan in Afghanistan. The statue was also constructed in response to the Maitreya Project, a joint effort between Indian and British engineers to erect a massive Maitreya Buddha statue in the town of Kushinagar in the Indian state of Uttar Pradesh. Announced in 1990, the Maitreya Buddha was meant to last a thousand years and was projected to measure 500 feet (152 meters) tall, intended to be the world's tallest statue upon the completion of its construction.
The cost of building the Spring Temple Buddha was estimated at approximately $55 million, with $18 million of it spent for the actual construction of the statue. Initially, the statue was to have been made from 1,100 copper cast pieces, which would have weighed a total of 1,000 tons. The monument completed construction in 2002, but certain modifications have been made on it in the years since then. From October 2008, work commenced on restructuring the hill upon which the statue rests in order to form 2 additional pedestals. The upper pedestal was intended to be 15 meters in height, while the Spring Temple Buddha's overall height is now set forth at 208 meters.
After the Spring Temple Buddha, the second and third biggest statues in the world also depict aspects of the Buddha. The second tallest statue and the biggest standing Buddha in the world is the Laykyun Setkyar in Myanmar, which measures 381 feet (116 meters) on a 44-foot (13.5 meters) throne, for a total monument height of 427 feet (130 meters). The third biggest statue is Japan's Ushiku Daibutsu, which is 361 feet (110 meters) high, including a 33-foot (10 meter) lotus throne and a pedestal of the same size, for a total monument height of 394 feet (120 meters).