Before the baby comes, parents are all agog preparing for its birth: from fixing-up the nursery to preparing the baby bag for the hospital when the baby is due. However, expectant mothers need a few essentials, too.
Among these essentials is the nursing pad. A nursing pad is basically something that mothers will slip through their bras to prevent breast milk from seeping through the fabric of their clothes.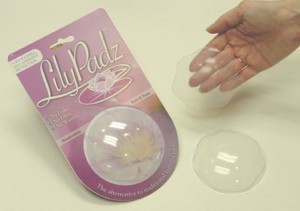 As the mother's breasts get just a little bit bigger than their usual size when they're filled with milk, it is best to check what size of nursing pads will fit perfectly.
What Size of Nursing Pads Do You Need?
Before you begin to select the right size of nursing pads for you, you should first decide on which type to use: disposable or reusable? Most mothers, especially those who are heavily lactating, choose to get both types of nursing pads.
The disposable types can be used when the mother will be going out with the baby such as trips to the pediatrician for check-ups and immunization shots. The reusable ones can be used at home.
Disposable Nursing Pads
When it comes to the size of nursing pads for the disposable variety, you will find that this is usually around 11.9 inches long by 7.9 inches wide by 4 inches deep.
This size of nursing pads will securely cup the breasts and is usually attached to the bra via the adhesive tape included in each pad.
There is also the gel-type disposable nursing pad. This provides a cooling and soothing effect to the breasts as these tend to hurt especially after feeding. The size of nursing pads for this type is usually around 7.5 inches long by 5 inches wide by 1.5 inches thick.
Reusable Nursing Pads
Usually, the size of nursing pads that you can wash and re-use is just the same as the disposable variety. However, there are suppliers who have gone the extra mile in providing nursing mothers with a more specific sizing guide for their nursing pads.
For instance, mothers with an A or B cup bra size may use a nursing pad that is indicated as Extra Small, which is about 5 inches in diameter; and a Small one, which is around 6 inches in diameter for mothers with a B, C or D bra size.
For mothers with a Double D or DD bra size, Medium is recommended which is approximately 7 inches in diameter. Finally, the Large one is for mothers with bigger breast sizes than the ones mentioned above. This is about 9 inches in diameter.