There are different bag pipes sizes available. The height ranges from 8.75 inches (22.2 cm) 9 inches (22.8 cm), 10 inches (25 cm) up to 13.5 inches (34 cm). The lengths usually range from 23 inches (58.5 cm) up to 29.5 inches (75.0 cm).
Choosing the Right Size
One of the most common mistakes people make is selecting a size that is just too big. If the wrong size is selected, it will affect the blowing technique, chest shape and arm length.
Signs the bag is too big are trouble getting to the chanter and bag pressure on your forearm. A short individual but with a large chest can get a customized bag to make up for the smaller circumference.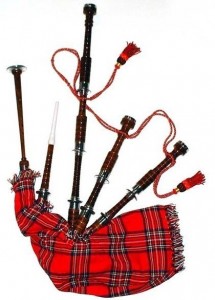 Today, many musical groups prefer small bag pipes sizes regardless of the player's physique. The smaller bags mean less air and better cut-offs. However, the bag dimensions can affect the sound. Some prefer the large bag because one has to blow less. The easiest way is to try as many different bag pipes as possible.
Other Factors
Besides the shape and size, other elements have to be accounted for. One obvious factor is the budget. Moisture is also something to consider. If moisture is an issue, get a sheepskin bag with moisture control.
Also keep in mind that left-handed bags are not that commonplace. Unless you can get a customized bag, use an ordinary bag instead. Just cut openings in the bags and it should work out just fine.
Ordering Custom Bags
There are many companies that will make bag pipes tailored made to your specs. If necessary, you should provide a template for the designers to work on. Depending on the design, construction may take a few weeks or months.
Other Information
The bag pipe is composed of four parts: the drone, chanter, bag and air supply. Extra drones may be installed to provide sound variation. The bag has to be inflated when it is being played. The bag may be composed of synthetic or natural materials.
Many modern blowpipes are equipped with a valve so air does not escape. Music is produced when the air flows from the bag into the drone and the chanter.
Regardless of the bag pipes sizes, skill and strength is required to play it. This is made even more challenging if the person is marching. A lot of practice is required to play the instrument right.