Size of an Electrical Room
An electrical room is a space, room or area used for storing electrical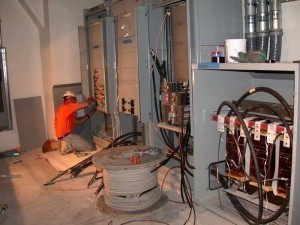 apparatus and equipment. The equipment stored here varies, but often include electric switchboards, electricity meter, circuit breakers and transformers. Other equipment stored in electric rooms includes busbars, distribution frames, and backup batteries.
Size of an Electric Room
The dimensions of the electric room are typically relative to the dimensions of the building. It isn't uncommon for huge buildings to have a substantially large electric room.
Usually there is a main electrical room and smaller rooms throughout the structure. The electric room is usually not present in small buildings and homes.
Construction
Electric rooms are configured in different ways, depending on the equipment that is kept there. However, all electric rooms are configured to be as compact as possible without losing functionality.
Because the rooms have numerous functions, extensive analysis is required when determining the appropriate dimensions of the electric room. Among the issues that have to be addressed are the location of the room and its dimensions.
Location
The location is critical, as are the points where the parts are to be installed. In processing plants, the electric room is constructed as an integral component of the plant. This isn't always the case with other buildings.
In some instances, a prefabricated electric room can be constructed offsite. After construction, the unit can be put in the building during the construction phase.
Importance of Component Size
Using a prefabricated electrical room has its advantages. But since it must be relocated to the building site, the weight and size of the components will be essential. This means all components must be measured along with the dimensions of the electric room.
This ensures the transfer will be smooth. In processing plants, the electric room can be set as an enclosure. This gets rid of the need for separate fields for motor starters and control hardware.
Benefits of Offsite Electrical Room Construction
This method allows for earlier installation of components. This will ensure the project will be on schedule or even ahead. An offsite construction also allows for more thorough testing. Setting up the electric room separately removes the risk of construction related accidents.
Other hazards and risks will be avoided too. Another benefit is that the construction takes place in a controlled setting. This can improve productivity. Regardless of the electric room size, this approach has been shown to reduce labor costs
Electric Rooms as Enclosures
Its first benefit is eliminating the need for other kinds of enclosures. This means less weight and also less space needed. Another benefit is that it will need less panel entries to be constructed with conduit.
This approach also boosts flexibility for routing wires. Electric rooms as enclosures also improve air flow and cooling. In processing plants, however, this means changing the way personnel handle the room.
These are just some of the things that have to be considered by electric room designers. Although many factors come into play, the dimensions of the electric room are clearly very important.