The tambourine sizes and the circumference jingle pairs determine how loud the instrument is going to be. Below is an overview of the popular sizes.
7 to 8 Inches
These diameters are suitable for 10 to 12 year old kids. These often come with half a dozen pair of jingles. There is a wood shell and the head is made of goat skin. These instruments are usually 2 inches thick. They are portable and can be swung around with ease.
5 to 6 Inch Variants
These are the smallest sizes that can be used for live shows. These also have a goat skin and a wooden shell. They are also 2 inches thick. These tambourine sizes typically come with four pairs of jingles. This size is small enough for grade schoolers to handle.
Use in Professional Performances
The instruments used by bands and professional dancers are larger. These are usually 9 to 10 inches in diameter. These are also the ones used in religious ceremonies. However, they are also 2 inches thick. These are also constructed of metal or wood shell. Goat skin is also used.
Note that there are also some extra large, 12 inch instruments. These usually have 8 to 16 pairs of jingles. These are required for additional metallic jingling.
Jingle Dimensions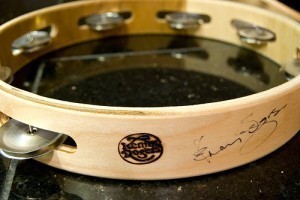 These are the circular rattling tins set on the instrument's circumference. These are usually placed in pairs on the instrument. The smallest range from 1 1/2 inches in diameter up to 2 inches.
The larger diameters are more suited for the four pairs. Usually though, these are an inch thick. The jingles are utilized to keep the sound going when the top hasn't been pounded yet.
The Goat Skin Top
It's important to keep the skin head bigger than the instrument's diameter. This permits the skin to be stretched along the top. This also allows sealing along the inner sides. For example, if the diameter is 7 inches, the cover material has to be 7 1/2 inches. Stretching of the top is absolutely essential to get the right sound.
Origin
Its inventor is unknown. But what is certain is that it had already existed since Biblical times (Exodus 15:20). A similar instrument is used by shamans to attain altered states of consciousness.
While the tambourine sizes today vary, they are still firmly associated with ethnic and folk music. In fact, many cultures around the world have an instrument similar to it.