Olympic Swimming Pool Dimensions
Swimming is one of the highly anticipated and well-participated events in the Olympic Games.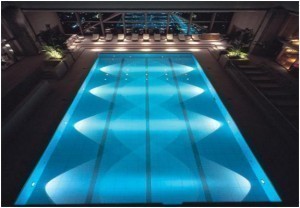 This sport is held in a swimming pool, which is unlike the ordinary pools that can be found in backyards. It is longer and wider in terms of size. It is used for the so-called long course events, which refer to games that cover a range of 50 meters lengthwise. For people who wish to learn more about this all-important sports facility, it is good to know the different Olympic swimming pool dimensions.
Dimensions of Olympic Swimming Pools
The Federation Internationale de Natation or FINA is the organization responsible for handling worldwide competition in aquatic sports. This group is highly recognized by the prestigious International Olympic Committee. The FINA specifications for Olympic swimming pools include 8 to 10 lanes, a width of 82 feet or 25 meters and a length of 164 feet or 50 meters. The official width of each lane is 8 feet and 2 inches or 2.5 meters.
In addition, there is also an official water temperature, which usually stands somewhere in between 25 to 28 degrees Celsius. In terms of depth, this type of pool must be at least 6 feet and 7 inches or 2.0 meters. In terms of water volume, this particular type of swimming facility must have at least 660,000 U.S. gallons. However, this may change depending on the depth of the pool.
Additional Information and Other Interesting Details
Primarily, there are two extra lanes outside the first and eighth lanes, thus the total number of lanes is 10. They are always empty even during game time. In terms of width, each of these two additional lanes measures 8 feet and 2 inches or 2.5 meters. Lengthwise, the measurement of each lane is 164 feet or 50 meters, which usually covers the area between the touch pads.
Aside from the long course pool, there is also a so-called short course swimming pool. This kind of pool has a length of only 25 meters, unlike the 50 meter-measurement that is set for an Olympic size swimming pool. As the major sports organization responsible for handling international aquatic sports, the motto of FINA is 'Water Is Our World.' It was founded some time in 1908. Today, it lists more than 200 countries as members. Its current president is Julio Cesar Maglione.
The main headquarters of this prestigious sports organization is in Lausanne, Switzerland. Member countries are divided into various groups, namely the Oceania Swimming Association, European Swimming League, Amateur Swimming Union of the Americas, African Swimming Confederation as well as Asian Amateur Swimming Federation.