A snowboard is a type of board that people use to slide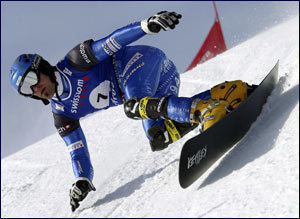 down inclined and snow-covered streets, hills and mountains. It looks like a wide ski and you usually need additional gear such as bindings and boots made especially for snowboards.
Snowboard sizes come in varying dimensions enabling snowboarders to get the size that provides them with the best support ideal for their height and body weight.
Determining Snowboard Sizes
There are several factors that go into choosing the right snowboard size. For instance, shorter boards are ideal for children and female snowboarders while larger snowboards are ideal for male snowboarders and mountain snowboarding.
The sizes are also determined by how the board flexes once you are using it. How the board flexes on the other hand is determined by your weight. Lightweight riders will apply less pressure on the board while heavyweights will apply more force of pressure on the board.
This means that if you are a bit heavy for your snowboard, it may result in too much flexing which will then result in the board being unstable for you.
Recommended Sizes
Based on weight, the following are the recommended sizes for snowboards:
95 to 145 pounds – get a 151 centimeter-long snowboard
115 to 165 pounds – 154 centimeters
130 to 180 pounds – 158 centimeters
140 to 190 pounds – 162 centimeters
155to 205 pounds – 166 centimeters
Snowboard Sizing Calculator
On the other hand, if you want to find out for yourself the ideal size of snowboard for you, you may want to consider checking out a snowboard sizing calculator. You can easily find this on the internet and it is free to use for everyone.
How it works is that you key in your height, weight, boot size, gender, riding style; whether it is freestyle, freeride or a combination of both; and your skill level, whether you're a beginner, intermediate or expert rider.
Once you have inputted all the requested data, the calculator will automatically give you recommendations on the ideal board size for you.
Snowboard Shopping
The costs of snowboards vary depending on the type of board that you will be getting. For instance, there are basically 3 categories that snowboards fall into. These are entry-level boards, mid-range boards and top-end boards.
Entry-level boards are basically offered anywhere between $150 and $250, mid-range boards can cost you around $250 to $450; while top-end board prices generally start at $450.
You can find all types of snowboards in online sporting goods shops and if you already know what type you want, you can easily get your snowboard on the internet.