A door knocker is a furniture attached to doors. It permits people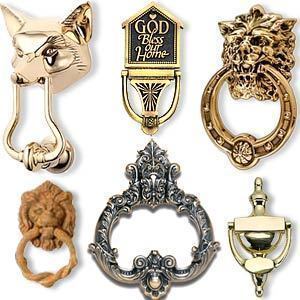 outside a house to notify the people inside that they are there. It is made of two parts. One is attached to the door and the other to strike the plate or door.
Door Knocker Sizes and Types
Door knockers are available in all sorts of shapes and sizes. The National Hardware V1913 door knocker measures 0.8 x 3.8 x 6.6 inches and weighs 5.1 ounces. The Baldwin 0102.003 Colonial Door Knocker measures 6.5" x 3.5". The National Hardware V1914 measures 7 inches and is solid brass. This model is also resistant to corrosion.
The part that is struck in most knockers is typically metal. If there is a plate included, it is fitted with the knocker. While there are some simple knockers, many of them are elaborately designed.
How to Clean Brass Door Knockers
While brass door knocker sizes vary, several of them tarnish rapidly when exposed to air. If the brass is tarnished you can try the following procedure to fix it.
Materials Needed
Toothbrush
Tape
Car wax paste
Paper
Acetone
Spray-on gloss lacquer
Brass polishing product
Clean cloths
Brush
Mild dishwashing detergent
Gloves
Protective gloves
Step 1
Take off the tarnished lacquer by adding some acetone coating on to a piece of cloth. After five minutes, take off the stripper with the brush. Rinse and dry the knockers.
Step 2
Apply the brass polisher on the door knocker. To apply, use a piece of clean soft cloth. No matter what the door knocker size is, always wipe the polish in a circular manner.
For the hard to reach spots, cover the toothbrush with the cloth. Make sure you wear gloves so no fingerprints are left. After rinsing the polish, let it dry completely.
Step 3
Apply the spray-on lacquer. Apply only the spray lightly. Make sure that it doesn't drip. Add as many coats as necessary. Tape the paper to the door so the lacquer does not get on it.
Step 4
Dip a clean cloth into car wax paste. Put this on the knocker, again using a circular movement. Wait five minutes then apply more paste.
Note: clean the brass door when there is no wind. If the brass door knocker is an antique or of great value, you should consult a professional; it may require special cleaning.
Warnings
Always wear gloves when using polish and acetone. People with sensitive skin may suffer from irritations. These instructions are for brass door knockers only. If your knocker is another type, you should read the product guide for info on how to clean it.
Tips for Buyers
There are many types of door knockers available online and in stores. Their prices vary, and it will all depend on the quality. The more elaborate ones, of course, cost more.
Since the invention of the doorbell, the various door knocker sizes and types have been used more for decorations than anything else. While they are no longer quite the necessity they used to be, they still add a touch of class to your home.