Player bench dimensions differ. The smaller ones are 6 to 9 ft long. Some of the longer benches are 15 to 17 ft long. If you really need a lengthy bench, there are 21 ft units available. Their weights vary too. A 6 ft long bench weighs 24 lbs, while a 15 ft bench weighs 47 lbs.
The seat plank sizes vary, but those that are ten inches wide is not uncommon. The good benches also have a ribbed non-slip surface. There are also benches that feature anodized aluminum planks. Unlike other wood types, this will prevent aluminum from getting on your clothes.
Considerations for Buyers
If you are going to buy one, the player bench dimensions have to be considered. At the same time, the safety features must also be assessed. Avoid those benches with sharp corners or edges.
These benches are made from different materials. Among the best are those constructed from heavy duty commercial grade 2-3/8 in. O.D. galvanized steel. Majority of benches today have back supports so it won't be hard to find one.
Where to Buy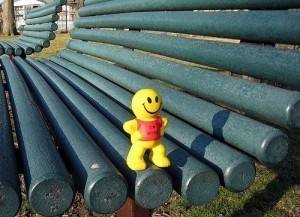 The best place to look is online. Unlike land based stores, you won't get tired from walking back and forth. Online shopping also lets you view the product specifications clearly. You can determine its length, width, depth, material composition etc. Best of all, you can compare the prices of different benches with just a few mouse clicks.
Of course you should compare the prices of these benches. When purchasing online you have to factor in the shipping costs too.
Making Your Own Player Bench
If you are the DIY type, you'll be able to build the bench to your exact specifications. You will only need basic carpenter's tools like a saw, hammer, nails, screws wood glue and paint. Even better is the fact that many how-to's on the subject exist on the Net. If you are going to make one, the dimensions should be your foremost consideration.
If you are making a dugout bench, the size will depend on the dugout dimensions. The size will also depend on how much non-bench area you want to have. Benches for adult players are about 35 inches high.
But the ideal player bench dimensions depend on you. You have to think about how the bench will be used. If it will be for competition, specific dimensions may be required. Check with the tournament organizers first.