The oxygen concentrator is a piece of medical equipment that provides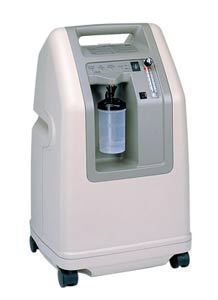 a steady flow of oxygen to the patient. The air in these oxygen concentrators have a higher concentration compared to the ambient air around it.
Oxygen Concentrator Dimensions
The EverFlo Stationary Oxygen Concentrator measures 23 in (584 mm) H x 15 in (381 mm) W x 9.5 in (241 mm) D. It weighs 31 lbs (14 kg) and has a 45 dBA sound level. The liter flow is 0.5-5 per minute.
The power consumption is 350 watts and the output frequency is 60Hz.
Note: the specifications for other oxygen concentrators will be different. The specifications of the product itself may change.
Other Facts about Oxygen Concentrators
These devices can be subjected to various types of regulation, depending on the utilization. Most of the time the concentrator draws air in a container or chamber which takes in nitrogen. The air full of oxygen is relayed through tubing into the patient. The nitrogen meanwhile, is vented out.
The amount of air that it filters and concentrates will depend on the oxygen concentrator dimensions. The filtering and concentration is calculated on a per minute basis.
The concentrator is often used in hospitals and medical facilities. However there are portable versions now available. This is meant for people who are on the road. In terms of safety, the oxygen concentrator is safer compared to the oxygen tank.
These concentrators are easier to operate and there is no danger of explosion. For this reason oxygen concentrators are used in the battlefield. Still, the following safety tips should be kept in mind when using these devices.
Location Safety Tips
These devices have to be a minimum 6 to 8 feet away from heat sources and flames. Heat sources include kitchen appliances and radiant heaters. As these concentrators run on electricity, make sure the wires are covered. Exposed wires could lead to sparks. As the concentrator runs, it generates heat.
To avoid problems, do not place the device in an enclosed space. If you do, the heat could build up and be a fire threat. A well ventilated area is the best place for an oxygen concentrator. Read the safety precautions in the package to be sure.
Regardless of the oxygen concentrator dimensions you use at home, make sure to put a "no smoking" sign near the area where it is located. Cigarette smoke may cause a fire.