Organizing a Small Christmas Party
So you want to throw a small Christmas party for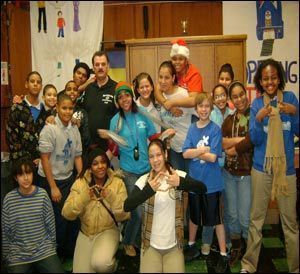 your friends to celebrate the holiday season. Small is a relative term of course, depending on what you consider a small party.
But typically, a small party means having guests of around six to ten people, including children. Organizing a small Christmas party does require careful planning especially if you are working with a tight budget.
You can still make your party memorable, fun and exciting without spending too much.
Organizing a Small Christmas Party on a Budget
First, You have to take note of your guests and if there will be children at the party. This will help you plan your menu and entertainment so none of the guests will feel left out especially the kids.
Second, Send out invites. After you have determined who to invite for your small Christmas party, make a simple invitation and send this out as soon as possible. This will give your guests the opportunity to mark their calendars for your party. Make sure that you ask for RSVP so you will have the exact number of guests coming over for the party.
Third, Make a checklist. List down everything that you need to do for the party. This includes the menu and the ingredients you need to get for each dish, party favors, games and decorations.
Fourth, Seek the help of friends or family. You must not take on the whole responsibility of planning and preparing for the party. Seeking out the help of friends and family can cut the chores in half and you can get everything ready before the day of the party.
Fifth, Cheap party favors. For your games and giveaways, you don't have to get expensive ones. You can bake cookies or the traditional gingerbread man for your party favors and you can also put in a mix of colorful candies in clear plastic or cellophane.
Sixth, Exchange of gifts. You can also ask your guests to bring a gift and you can use this in place of your giveaways or as extra surprises for the guests. Make the gifts gender-neutral and general so it wouldn't matter who gets the gift; whether a boy or a girl.
If kids are part of your guest list, it's best to have a separate exchange of gifts for them. Count how many kids will be there and then ask each parent or guardian to bring a gift for each child that they will be bringing along to the party.
Seventh, Recycled decorations. You can make recycled Christmas decorations or use the ones you currently have instead of dressing-up your home with new ones. You can simply put in the traditional Christmas tree and mistletoe.
You can also get cheap paper plates and cups with Christmas designs.