Keyboards today have extended capabilities.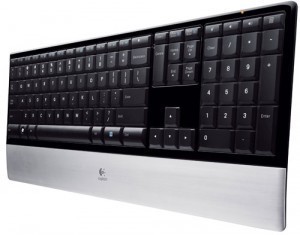 Not only that, but their sizes and appearance have also changed.
Logitech diNovo
Keyboard Dimensions: 11mm x 410mm x 210mm
A wireless keyboard, it has standard 18 x 18 mm keys and key travel of 3.2 mm. The activation force is 60 g and comes with scissor technology. The panel is Plexiglas and the palm rest is aluminum. There is also a 38 mm circular Touchpad. This comes with both vertical and horizontal scrolling.
The diNovo also has 17 one touch access controls and backlit feedback. There is also a 57 mm touch sensitive volume and a slider with feedback. The unit comes with Bluetooth wireless technology, 950 mA lithium ion battery and charges in 5 minutes. The keyboard works with Windows XP and Vista.
Adesso 2.4GHz RF Wireless Keyboard
Keyboard Dimensions: 11.75" x 8.25" x 0.5"
The frequency of this keyboard is 2.4GHz and the range is up to 100 ft. The reception method is via radio frequency. The connection is through USB. There are 88 keys and 4 auto changeable channels (there are 256 IDS for each channel).
The included touchpad allows for simulation of a mouse's functions. Being plug and play, there is no software required to install it. The Membrane feature allows for quiet typing. The keyboard is compatible with Windows 98, 2000, ME and XP.
To get out of standby mode, one just has to press the enter key. The battery can last for seven months even when used every day. Aside from PCs, it also works for tablet PCs.
Microsoft Natural Ergonomic Keyboard 4000
Keyboard Dimensions: 16.9" x 6.85" x 1.5"
This keyboard has a Zoom Slider for viewing objects on screen more easily. The unit also comes with one touch controls. This setup allows users to perform routine tasks using only one button (.e, answering email or opening files).
The split board is designed to make typing easier. Although it looks odd at first, the arrangement of the keys allows the hands to rest in their natural position. The connection type is via USB.
The keyboard also comes with Internet hot keys, palm rest, and multimedia keys. The keyboard works with Windows 2000, XP and Mac OS 10. The hot keys work with Internet Explorer, Windows Media Player and other applications. The keyboard also requires 100 MB of free space on Windows and 30 MB on the Mac.
Razer Lycosa Gaming Keyboard
Keyboard Dimensions: 469 (length) x 168 (width) x 15mm (height) without the wrist rest. With the wrist rest it is 469 (length) x 221 (width) x 15mm (height).
Designed for gaming, the Lycosa's most notable feature are the illuminated keys. The keyboard also comes with a non slip rubber finish with macro capabilities.
The keyboard also has a slim keycap and comes with TouchPanel technology for getting to media keys. There are also jacks for microphone and earphones. The wrist rest can be removed. The keyboard works with Windows XP, Vista and Vista 64.
Never underestimate the need for the right keyboard dimensions. A lot of wrist pain and discomfort can be removed with the keyboard, so find one that is most comfortable for you.