How Small is The Smallest Cellphone?
Primarily used for mobile telecommunications, a cellphone is also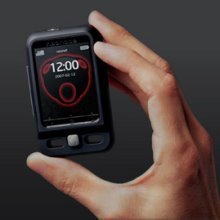 called by other names like a hand phone or a mobile phone. It is basically used for making data transmission, text messages as well as mobile telephony. Today, modern phone versions offer different kinds of wonderful features including video recorder, Bluetooth and gaming. Furthermore, some of these phones even have a GPS, MP3 players and many more. Aside from these interesting facts, it is also good to find out the size of the smallest cellphone.
The Size of the Smallest Cellphone
How small is the smallest cellphone? The smallest cellphone is the Neo 808i. Although very small, it is packed with numerous wonderful and interesting features. It fits perfectly right within the palm of a hand. It has an FM radio, a music player as well as a 1.3-megapixel camera. This attractive phone measures only 72 millimeters long and 41 millimeters wide.
Additional Facts and Other Interesting Details
The Neo 808i has the appearance of a small music player. You can only recognize it once you see the keypad. Instead of the usual vertical phone, this one can be utilized horizontally because the keypad is arranged as such. Another major advantage of this product is its stable memory, the default of which is set at 128Mb. You can enhance it further even up to 4GB. The video and photo shoot options are also very impressive. With the use of this phone, searching the Internet is definitely not a problem because its format supports GPRS.
Cellphones serve many important functions such as conducting businesses as well as keeping in touch with the family. Today, mobile phones are classified into different categories like camera phones, music phones and smart phones. In 1996, the Nokia 9000 Communicator was launched, which became the very first smart phone equipped with basic mobile phone and PDA functions. After this came many other advanced smart phones such as the Apple iPhone, the Nokia N-Series and the Cybershot camera phone series.
Thanks to technological advancements, a regular cellphone now features more than just making voice calls and sending text messages. Other standard features include personal digital assistant functions, document recording as well as RDS radio receivers. Moreover, highly advanced versions even have instant messaging, memory card readers and Wi-Fi connectivity.
As of the third quarter of 2008, Nokia was the biggest manufacturer of cellphones worldwide. Next in line are other topnotch mobile phone manufacturers such as LG Electronics, Motorola and Samsung. Furthermore, be sure not to count out other impressive companies like Benefon, UTStarcom and Apple Inc.