How Large is a Fishing Rod?
A fishing rod is commonly thought to be the same as a fishing pole, but the 2 are actually quite different. A fishing pole is just that, a pole or stick upon which a line is suspended and hooked with bait to catch fish. Meanwhile, a fishing rod is a much more intricate casting device, with fixed line guides and equipped with a reel for stowing the line. As to how large is a fishing rod, its size ranges between 24 inches and 20 ft. But there are various types of fishing rods, each ranging in a variety of lengths.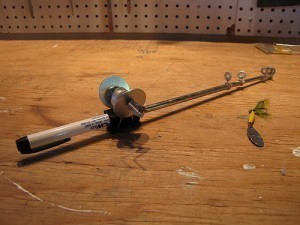 The Carbon fiber rod is a high-tech fishing rod that is generally used in Europe for coarse fishing. Made from various qualities of carbon fiber, the these rods range in length from 3 to 18.5 ft, allowing for accurate bait positioning, which then allows a good catch of fish through precise feeding.
The Spinning or Spin-cast rod is made out of either fiberglass or graphite, has either a cork or a PVC foam handle, and normally ranges in length from 5 to 8.5 ft (1.5 to 2.6 m). Spinning rods usually have between 5 to 8 large diameter guides that are arranged along the rod's underside to assist in controlling the line.
Ultra-light rods are fishing rods that are used for catching smaller species of fish, but they can also be used to catch bigger fish, as well as allow for fishing utilizing lighter lines and smaller bait. Although this term usually refers to spinning rods and tackle, fly-fishing rods that come in smaller line weights have also been used in ultra-light fishing. Ultra-light spin-cast rods typically range in length between 4 to 5.5 feet, making them shorter, lighter and more flexible than ordinary fishing rods.
The Telescopic rod is a fishing rod that is designed to extend into a long rod and collapse down into a short one. For instance, a telescopic rod that can open to a length of either 20 or 30 ft can close to as short as 1 1/2 ft, making for easy transportation while traveling. As such, telescopic rods are particularly popular with surf fishermen.
The Tenkara rod is a kind of fly fishing rod that is used in Japan for tenkara fly-fishing. A combination of different types of fishing rods, it is a carbon rod, a fly rod, and a telescopic rod all rolled into one. Portable and ultra-light, the tenkara rod's extended length usually ranges from 11 to 13 ft.
Surf rods are commonly used in surfcasting or beach casting, which is a method of surf fishing from the beach. Resembling an oversized bait casting or spinning rod, a surf rod has a long grip handle meant for 2-handed casting techniques. Ranging in length from 10 to 14 ft (3 to 4 m), these rods are made to be longer so that its user can cast the bait or lure beyond the breaking surf wherein fish usually gather together, and durable enough to cast heavy-weighted bait or lure necessary to hold the bottom when in rough water.